Intraday Market Thoughts
Draghi & Poloz Spin it again
ECB president Draghi and BoC governor Poloz showdd their usual rhetorcial creativity on Thursday, prompting the euro to lose some ground and the loonie to regain momentum following last week's rate announcement. Yen pushes higher after the Tankan manufacturing survey hit 11-year high. USD is down cross the board after on fresh roadblocks to US tax reform, this time from Senator Rubio. Up next is US industrial production and further chatter on the tax bills.
Click To Enlarge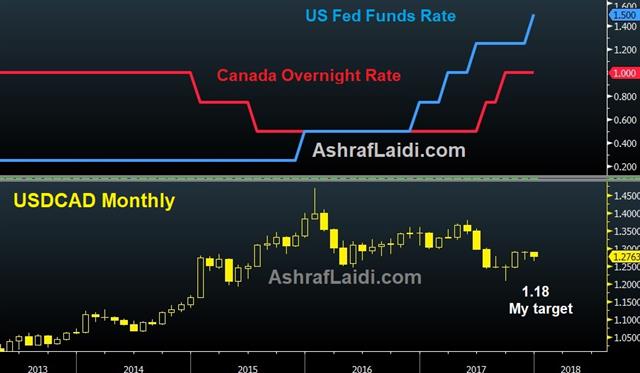 Draghi left the ECB's forward guidance unchanged along with interest rates at this month's rate decision. The staff boosted growth up to 2.3% next year from 1.8% while bumping 2019 to 1.9% from 1.7%. In spite of that, inflation forecasts were only nudged up to 1.4% next year from 1.2% and unchanged at 1.5% in 2019.
One of the major risks Draghi cited was the FX rate, keeping a lid on the currency. In the aftermath of the press conference, EURUSD remarkably slid to 1.1780 from 1.1850 in the face of rising sentiment and improving data.
On the flipside is BOC Governor Stephen Poloz continued to confound markets. 8 days after the CAD began a sharp descent following the central bank's keeping of the term "caution" in its policy statement, Poloz entered into a discussion on what caution means, indicating it does not mean they will not hike again. He also added that the 50-bp rate hikes of the last 6 months were not expected to have a large effect on the ecomomy.
USD/CAD fell by 1205 pips to 1.2850 only to rebound to 1.2800 around the US close. It is now trading at 1.2750, sending the USDCAD short of the Premium Insights back into the green. Markets are now pricing a 62% chance of a hike in March but we struggle to see how either side could have any confidence at this point. Also note that Canadian oil is now trading at a $28 discount to WTI in a story that is underappreciated.
Latest IMTs