Intraday Market Thoughts
ECB May Struggle With QE vs Rate Cut
The headline from Monday's ECB sources story dealt with a deposit rate cut but buried deeper was a hint that more QE will be difficult. USD retracement was the theme of the day as the greenback underperformed, while GBP led. Japanese current account data was a disappointment. Chinese CPI figures are up at 1:30 am GMT. A Premium Video on equity indices and a new trade was issued today. Full details found here.
Click To Enlarge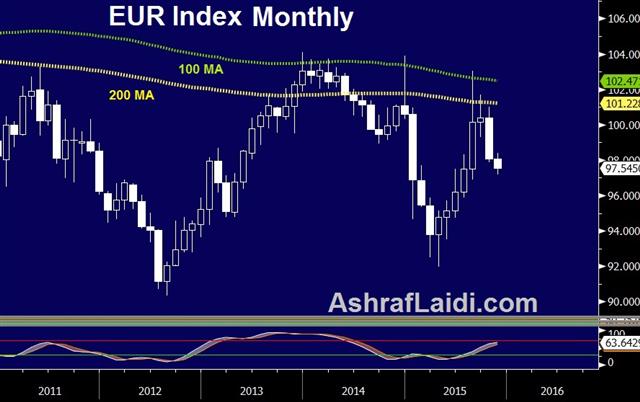 Reuters spoke to three unnamed ECB governing council members in an exclusive story focused on the December meeting. The main thrust of the story was that a consensus was forming at the ECB to delve deeper into negative territory on the deposit rate.
Yet the details of the story commit to nothing. They say a deposit rate cut is the least contentious proposal and hint at a move larger than 0.1 bps expected but the idea of a much deeper cut does not sound like a consensus opinion. What's perhaps more interesting is that expanding QE could be difficult.
The officials said extending the timeline would have a limited impact while adding assets like corporate bonds or equities would create problems. There is little detail on the QE opinions but it raises the possibility that the ECB may find it more difficult to ease than Draghi has let on.
That may help explain why the euro was relatively resilient after the report. It initially fell but later recovered the declines. Overall, the US dollar came under modest pressure as a small portion of the NFP move was retraced. If anything, the small size of the bounce indicates that USD bulls are in charge.
On oil, Ashraf highlighted a report that Saudi Arabia is set to tap international bond markets for the first time. The kingdom is no-doubt in a cash crunch but officials are convinced that if they can battle through the next 1-2 years, they will be in a strong position. Tapping the bond market shows a longer-term resolve and that's negative for oil.
In early Asia-Pacific trading, Japan reported a 1.47T yen current account surplus in Sept, well below the 2.15T expected. The BOJ has stepped back from QE for now but it's the only item in the bag of tricks and eventually they will find more money printing an easy option.
Act
Exp
Prev
GMT
Current Account n.s.a. (SEP)
¥1,468.4B
¥2,235.2B
¥1,653.1B
Nov 09 23:50
Consumer Prce Index (OCT) (m/m)
-0.2%
0.1%
Nov 10 1:30
Consumer Prce Index (OCT) (y/y)
1.5%
1.6%
Nov 10 1:30
Latest IMTs