Intraday Market Thoughts
Fed Refocus, Euro Infatuation Grows
Macron put a final stamp on his electoral victory on Sunday by claiming a combined majority with his coalition partner. The US dollar will be in focus in the week ahead as nine Fed speakers are set to take the podium. CFTC positioning showed euro net longs at the most extreme since 2007. 3 new charts backing our existing EURUSD Premium trade +a detailed note on the OIS-Fed divergence are have been posted.
Click To Enlarge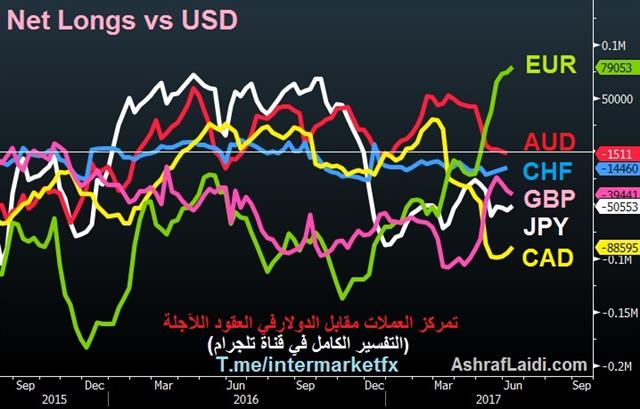 Macron with ally Mouvement Democrate are projected to win 355 to 356 out of 577 seats in French parliament with most of the votes counted. Alone, it also looks like his La Republique party will win a bare majority with 291 seats. In the past week Macron has made increasingly sweeping promises to reform France and unleash innovation. He certainly has the mandate to do it and any early successes are likely to underpin the euro.
The US dollar faces a volatile week ahead (and summer) as markets attempt to gauge exactly where the Fed stands. Dudley kicks off a week of 9 speakers with an appearance at 1200 GMT.
What makes it especially intriguing were late-Friday comments from Kashkari and Kaplan. Kashkari was the lone dissenter told a newswire other members shared his views but weren't quite ready to take a stand. Kaplan is seen as more of a hawk but said he will be "very cautious" about supporting a hike.
The comments from the pair of policymakers are more in line with the market's stance than what Yellen offered in her presser. The dollar could be heavily swayed if others highlight the same kind of aversion towards hiking before inflation and growth data accelerate.
CFTC Commitments of Traders
Speculative net futures trader positions as of the close on Tuesday. Net short denoted by - long by +.
EUR +79K vs +74K prior GBP -39K vs -37K prior JPY -51K vs -55K prior CHF -14K vs -17K prior CAD -88K vs -94K prior AUD 11K vs 0K prior NZD +1K vs -2K prior
Euro net longs hit the most since 2007 as enthusiasm shaping buy-the-dips approach. EUR/USD was sold on Wed/Thurs after the FOMC decision but it's already recovered half the decline.
GBP traders await Monday's press conference from the first day of UK-EU talks at 17:230, followed by BoE's Carney Mansion House speech on Tuesday for his view on the biggest dissent in 6 years.
We also emphasize how vulnerable that CAD position suddenly looks. Few of those specs were anticipating a hawkish turn from the BOC last week and a big rethink may have only just begun.
Act
Exp
Prev
GMT
FOMC's Dudley Speaks
Jun 19 12:00
FOMC's Evans Speaks
Jun 19 23:00
Latest IMTs