Intraday Market Thoughts
From Beijing's Perspective
Beijing might have a trade problem with the US, or it might be an IP theft problem but it could also be a power problem and that's why Meng Wanzhou's arrest is so important. The Swiss franc was the top performer Thursday while the Australian dollar lagged. US and Canada jobs are next. US average hourly earnings are expected at 0.3% m/m from 0.2% and unchanged at 3.1% y/y. Oil swings further amid conflicting reports of Iran's agreement to cut production.The Premium short in the Dax hit its final target for 650-pt gain. A new trade in another index was opened before the Thursday close.
Click To Enlarge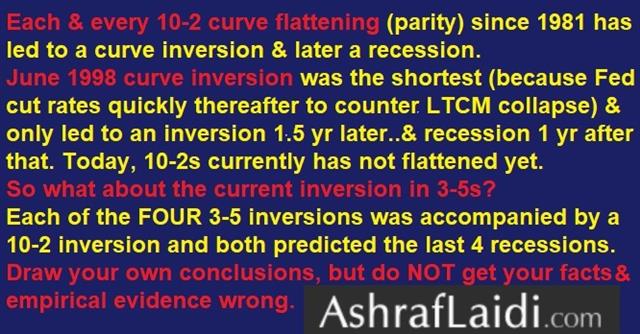 China has some major strategic decisions to make and the arrest of Meng Wanzhou may crystalize the problem. In public, the US says it only wants China to narrow its trade surplus with the US and stop its companies from stealing IP. Yet there are reasons to believe that the US sees China as a rival in the bigger picture and rather than the long-held policy of growing together, Washington may now be pursuing a policy of economic containment.
If China believes it can continue with the growth-together policy then it would be in its interest to meet the White House demands. If, however, Beijing believes that by doing so, Trump would only ask for more in a never ending quest to remain the world's only superpower then its response will be different.
The arrest of Meng appears to be a strong signal that the US isn't looking for adjustments from China. Or at least it's increasingly looking that way from China's perspective. If it determine sthat the Trump administration is pursuing containment, then China has three options: 1) accept it and resign itself to a smaller part in the world (unlikely) 2) Fight back 3) Delay and pray that voters replace Trump with someone more amenable.
The third option is the obvious one, even if it means enduring another two years of wounds. However, the case for option 2 may be growing. A big reason is that Trump has been extremely successful in turning public opinion against China. We see this every day in increasing anti-China sentiment among normally level-headed market participants. It's like a Pandora's Box has been opened and something like a cold-war sentiment has settled in.
If China decides the US is pursing containment, then the trajectory of global growth in the years and decades ahead may be very different.
In that time, expect markets to struggle with the same question. For the moment, talk of an on-pause Fed after a December hike has salvaged market sentiment but expect continued volatility.
Two reasons Friday is certain to be volatile are the OPEC meeting and non-farm payrolls. There are rumblings that Saudi Arabia and Iran are at odds about Iran's participation. It was assumed Iran would be exempted because its exports have already been severely cut by sanctions but Saudi officials may see that differently. Talk so far is around 1mbpd, which is less than the market was hoping for, as seen by the 3% decline in crude Thursday. As for the jobs report, the focus will once again be on wage growth and a high reading could send markets back into a tailspin.
Latest IMTs