Intraday Market Thoughts
G20 Rifts Open, GBP Shorts Hit Record
Headlines from the G20 meetings in Germany showed the new US administration beginning to assert itself and other leaders beginning to push back. The first French Presidential debate gets underway this evening, followed by the RBA minutes. Sterling fell sharply after UK PM May announced the date of Article 50 kickoff to be March 29, shedding all the gains from Thursday's hawkish dissent from BoE's Forbes. A new trade will be issued this evening to Premium clients.
Click To Enlarge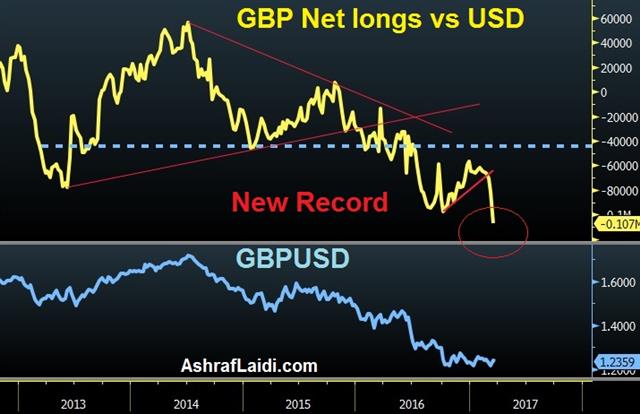 The best way to look at the G20 is a barometer. Little is ever accomplished at the Summits but the topics of discussion and dispute are clues on which way the world is headed.
Baden-Baden was Mnuchin's first entry onto the world stage. In public comments, he was cordial and only offered small hints on what the administration was after. But behind closed doors other leaders hinted at frustration as Trump's team sets its own course.
The Communique removed a reference to resisting protectionism and leaders were unable to find a compromise on the language on trade as most pushed for free and open but Mnuchin insisted on a reference to fair.
After more than 50 days of Trump, we still have little idea on whether he's mostly talk or if his team truly plans to reshape global trade. The G20 may have been a small signal that it's Option #2.
Commitments of Traders
Speculative net futures trader positions as of the close on Tuesday. Net short denoted by - long by +.
EUR -41K vs -58K prior JPY -71K vs -54K prior GBP -107K vs -81K prior CHF -9K vs -10K prior AUD +43K vs +51K prior CAD +21vs +29K prior NZD -6K vs -4K prior
The net short in cable is the most extreme since records began in 1992. It's been sold heavily from -60K in the final week of February. It's the clearest sign yet that specs are piling into shorts and looking for a quick profit on Article 50. That's the kind of thing that often blows up in the other direction.
Latest IMTs