Intraday Market Thoughts
Gold Requires More Pullback
Gold posts its biggest weekly decline since August. Bulls will tell you a pause in gold is long overdue after 4 consecutive monthly gains – not seen since spring 2017. Technical bears will tell us 1350 proved to be the end of a Cup formation, which could lead to the start of a handle formation (consolidation for the next 2-3 weeks). Fundamental bears will point to USD being the strongest of the rest, which is indicated by the recent run-up in US 10-year yields.
Click To Enlarge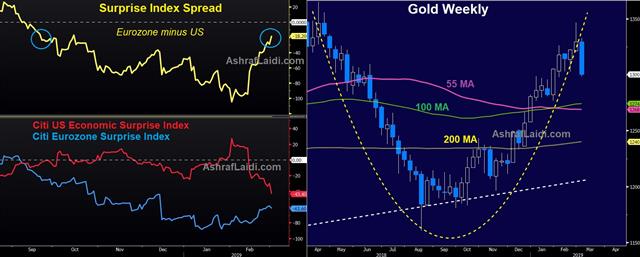 So what's likely to happen? With regards to US relative strength, that is changing. The left charts indicate that the US economic surprise index (according to Citi) has fallen recently to the extent of closing its advantage over its Eurozone counterpart to the smallest level since September. Whether this suggests that any upside in the US-Eurozone yield spread is limited, it remains to be seen.
As for gold, we have a long trade in gold for our Premium subscribers at 1280, which hit the initial target of 1350 but not yet the final target of 1380. We'll watch 1296 as the area to defend the weekly close, a break of which should transition to 1276. Keep an eye on the returning deadline of the US debt ceiling, this month's Federal Reserve press conference/dot plot and the progress on the US-China trade negotiations. More importantly, we'll keep on the support levels in silver and copper as we did in this situation with silver.
Latest IMTs