Intraday Market Thoughts
Gold, yen overshoot on Korean Missiles
Just as Hurricane Harvey was grabbing the headlines by further damaging USD bulls via ongoing dilution of hopes for a Fed December hike, safe-haven assets shot up after on news from Japan that N. Korea has launched a missile in the direction of Japan, passing over the island of Hokkaido and landed about 1000 km from East Japan. Both Premium longs in gold and silver hit their final targets -- (XAUUSD from 1222 entry to 1300 final & XAGUSD from 15.90 entry to 17.50 final). The chart below shows the strongest and weakest currrencies/metals since 10 pm London.
Click To Enlarge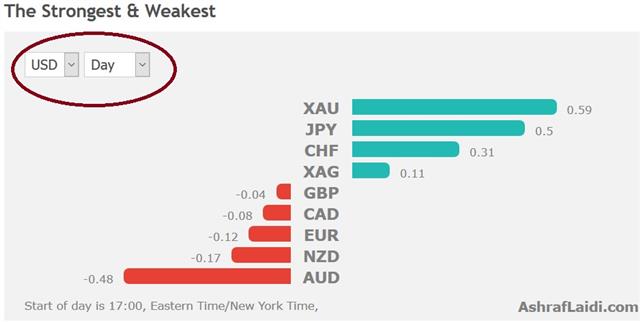 Earlier on Monday, gold confirmed its technical break as it climbed $20 to $1311, before pushing to $1324 following PyongYang's missile strikes. The initial gold was Hurricane Harvey. The loss of economic activity due to the storm will hit Q3 GDP and cloud the picture on growth and inflation for months. That makes the Fed less likely to hike in December. With Draghi also reluctant to curb QE, gold is signaling more-dovish global central banks.
Earlier, the Chinese yuan jumped to start the week while the Shanghai Composite broke above a major triple top in a pair of moves that didn't get much attention. For the yuan, it was the ninth consecutive gain and a 14-month high. There can be little doubt that Beijing is allowing the currency to strengthen. The renminbi could be headed for another bout of turbulence if the reports out of Washington are true.
They say Trump is hell bent on slapping some kind of tariff on China as he attempts to score points on trade. The machinations of FX moves in China are always tough to decipher. For stocks, there has been good news for corporate earnings but the two-day, 2.7% rise is tough to justify on fundamentals. Technically, however, the break is compelling and the index is now less-than 9% from the 2015 highs.
Latest IMTs