Intraday Market Thoughts
Inside CNY DXY Divergence
Let me distract you briefly away from US CPI and the Fed to call your attention to the
accelerating weakness of the Chinese yuan and the rare divergence between two key USD measures
. Before I continue, all I can say about the CPI is the Fed definitely wants to pause rate hikes tomorrow and in order for that to happen, CPI must avoid any upside surprises. The fear for markets, however, would be a mixed or steady CPI reading(s). In that case, Powell will pepper his conference with hawkish reminders, not to mention, hawkish/upside surprises in the dot plot, all of which (if realised) should trigger temporary downside in indices rather than in gold. Now back to CNH and DXY.
Click To Enlarge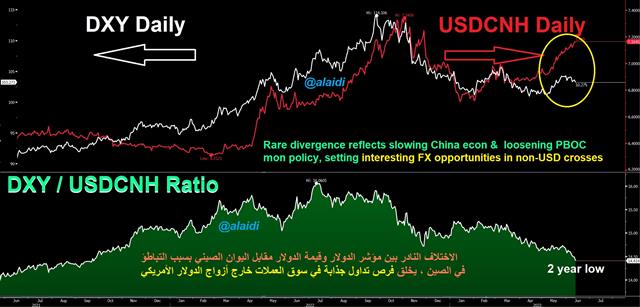 Those who have traded USDJPY and followed CNH for a while, will have noticed a prolonged positive between USDJPY and USDCNH, as well as DXY and USDCNH. But as the two graphs in the upper channel show, USDCNH has diverged from DXY, as a result of broad CNH weakness lifting USDCNH and currencies such as EUR and GBP dragging down the DXY index. NOTE: CNH is offshore CNH and CNY is onshore CNY. I tend to mention the former.
Unlike most G7 economies, which offered consumers stimulus programs during pandemic lockdowns, China offered none, resulting into a disappointingly weak opening of the economy.
The PBOC is now forced to cut short term rates, while the govt is considering large stimulus packages at a time when G7 is in tightening mode. This has sent 10-year Chinese yields to 9-month lows, falling below yields of all major G10 nations, except for Germany and Japan.
What does this divergence mean for currency trades? Or for commodities? Does weakening Chinese demand portend weakness in metals? Even in gold? What about commodity currencies? Can we lump AUD and CAD in the same basket. Will China and oil act as the distinguishing factor between the two antipodean currencies? And what would you buy? EUR because the ECB says more rate hikes ahead? Or, GBP after recovering labour market implies a clear BoE rate hike next week? SO many permutations, so many considerations, some of which, we translate into tradeable ideas to take and to avoid for our WhatsApp Broadcast Group.
Latest IMTs