Intraday Market Thoughts
Is Bitcoin Different This Time?
Bitcoin hit $18,480 with far little fanfare than it did three years ago; that's key. Another round of Nasdaq selling and rally for DOW30 and SPX, while metals pulled lower after Pfizer added more details on its vaccine for Covid19. On Tuesday, sterling was the highest performing FX and US retail sales missed estimates.
A new FX trade will be issued after the London close
Click To Enlarge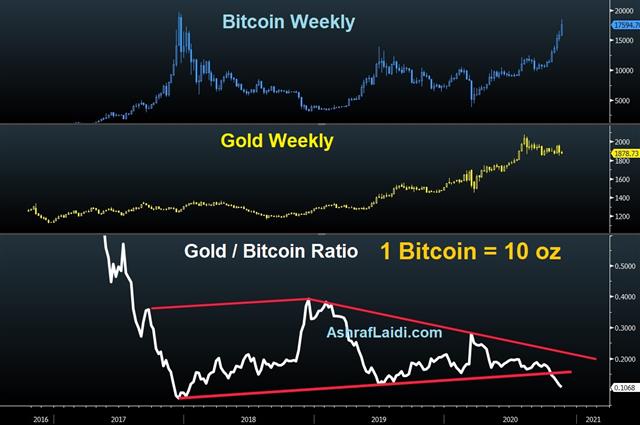 Is it different this time for Bitcoin? Last time it got to these lofty levels it blew off in a spike to $19,900 and then crumbled.
It is different this time
One big difference is that the field of crypto assets has narrowed. In the initial boom, money flowed into thousands of speculative instruments and scams. This time it's in a few assets. That concentration means that even with less money going into crypto overall, Bitcoin can go significantly higher.
Secondly, there are now established and trusted ways to buy crypto. The first run-up was characterized by fly-by-night operators and even the reputable firms had short track records. This is less of a barrier this time and that will attract more people looking to establish a toe-hold in the market as a minor investment or hedge.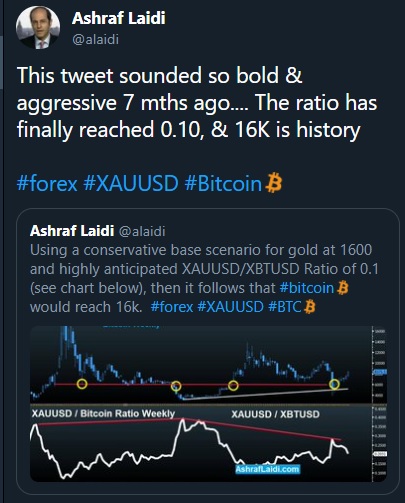 Thirdly, there is a growing argument for utility. The announcement that Paypal would facilitate crypto in the fall was the catalyst for the latest run-up in Bitcoin and it's a powerful, lasting message.
Finally, the lack of mainstream hype at this point is a positive. It's building and on a break of $20,000 it will build further, adding fuel to the fire.
Ashraf tells me he sees $26,000 Bitcoin before year-end.
Naturally, prices are stretched in the 70% rally since September but Bitcoin is not an asset that follows the rules. The FOMO hasn't even started yet.
In other markets Tuesday, the tone was more-negative in large part due to a soft October retail sales report that also included downward revisions to September data. It could be a blip after six months of surprisingly strong spending but it could also be an early sign of consumers pulling back as the pandemic rages. But even if that's the case, the modest blip in markets suggests investors can easily look past it.
Latest IMTs