Intraday Market Thoughts
Missiles, Jobs & Breakouts
In what was perhaps the least important US jobs report of the year (due to its lack of proximity from Fed meeting and importance relative to mounting geopolitical events), the reports were neutral to positive. The 98K in payrolls in March undershot expectations for a 180K rise and followed a 219K April increase with a 2-month net revision of -38K. With the figures blamed on the snow storms, the unemployment rate fell to 4.5% from 4.7% and wages growth slowed to 2.7% y/y from 2.8% y/y. The participation rate held unchanged at 63%.
Click To Enlarge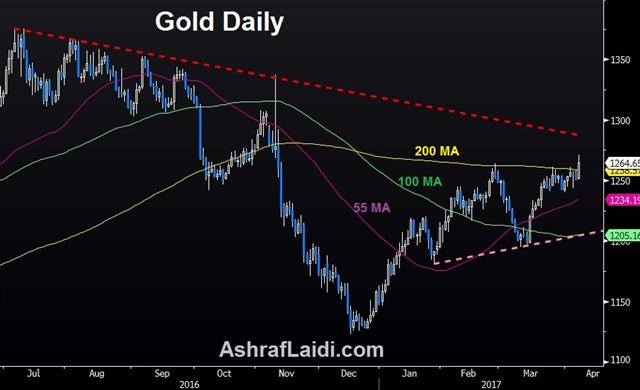 On the positive side for the US dollar and stock indices, the situation is holding steady despite the escalation of worries and/negative events (Fed concerned about equity valuations being too elevated, US strikes on Assad Regime, Paul Ryan expressing frustration at tax reforms obstacles). But the resistance turns increasingly apparent as stocks struggle near the key 2373 (SPX500) and 20800 (DOW30).
As US 10-year yields find consolidated support at 2.30% and USDX remains capped at 101.50s, gold is set to break above its 200-DMA for the first time since the pre-US election swings. The decision to close our Premium short USDJPY moments before the US jobs figures was largely technical in and partly related to the other Premium trades outstanding. Yen strength may dissipate somewhat, while USD strength will edge likely edge higher against European FX for the rest of what will likely be a slow trading week ahead of the Easter Holidays.
Latest IMTs