Intraday Market Thoughts
North Korea Adds Tail Risk
The latest North Korean missile test and hostile words from the US in reaction raise the risk of a destabilizing surprise. The Swiss franc was the top performer Wednesday while the Canadian dollar lagged but the magnitude of the moves was small. Australian trade balance is up next. A new Premium trade has been issued with 4 supporting charts backing the trade. A new video for Premium members focusing on Gold & EUR has been added here.
Click To Enlarge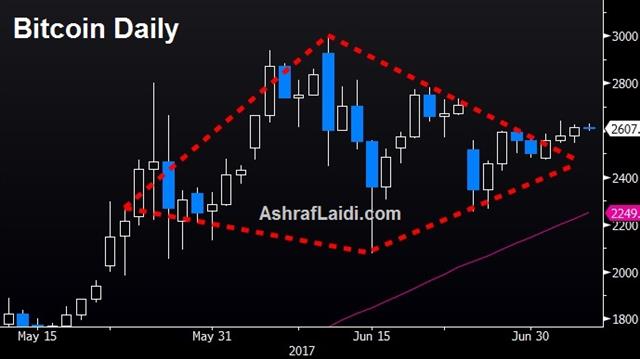 United States ambassador to the UN Nikki Haley had strong words for North Korea on Wednesday. She said the latest missile test was a sharp escalation and that the US will use its military if it must and could go its own path.
Markets largely ignored the rhetoric but it's a clear escalation. US leaders are also increasingly pointing the finger at China as the enabler of North Korea. The latest tweet from Trump noted that trade between the countries grew 40% in Q1. "So much for China working with us," he wrote.
We don't think words – even harsher words – will rattle markets but the moment any actions are taken it will be a game changer. China has said that military must not be an option but if the US puts it in play it would threaten to rollback China-US relations and plunge South Korea into war. It would be a sharp retrenchment in risk assets and a flight to bonds.
In separate news, the FOMC minutes highlighted messages the Fed had already sent. Namely that most officials don't believe that the latest downtick in inflation is real or long-lasting. On bond purchases, they are undecided about whether to start the run-off in September or later.
Looking towards Asia-Pacific trading, the lone data point to watch is the 0130 GMT release of Australian trade balance for May. A surplus of A$1 billion is expected after a $555m surplus in April.
Act
Exp
Prev
GMT
Trade Balance
-0.4B
Jul 06 12:30
Trade Balance
0.56B
Jul 06 1:30
Latest IMTs