Intraday Market Thoughts
Oil Fears Mount, JPY Longs Increase
Sanctions on Iran were lifted in what will bring fresh oil to the market while China took fresh steps to chase out yuan shorts. In early trading, USD/CAD is significantly higher in early trading as it attempts to rally for a twelfth consecutive day; the yen leads the way. The calendar is busy in Asia-Pacific trading with the US closed for a holiday. CFTC positioning showed more yen buyers. On Friday, GBPJPY was closed for 201 pip gain.
Click To Enlarge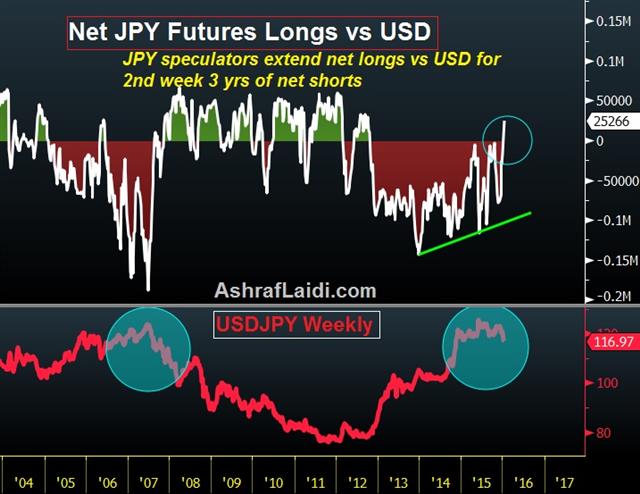 Early-week talk is centred on sharp falls in Middle Eastern stock markets in reaction to oil prices declines and after sanctions were lifted against Iran. The Iranian government says it will immediately ramp up exports by 500k barrels per day. The new supply is entirely expected but with the oil market in freefall, it's the kind of headline that will cause more selling.
The other spot to watch early is China after a report that the government will force Chinese banks with branches offshore to respect reserve ratios for the offshore yuan. Last week's HIBOR flap highlighted how speculators were able to cheaply bet on a falling yuan and that has been blamed for higher volatility. The latest measures don't go into effect until Jan 25 so there may not be a short squeeze but it's yet another signal that China doesn't want to be seen aggressively devaluing.
On the weekend Chinese Premier Li Keqiang said 2015 was about 7% in what is seen as a potential leak of Tuesday's GDP report. The focus today is on Australia and Japan. At 2330 GMT, the Australian TD Securities inflation report is due. The prior reading was +1.8% y/y.
At 0430 GMT, Japan's tertiary industry index is due along with final Nov industrial production numbers. Neither is likely to be a market mover but at 0030 GMT, Kuroda delivers a speech.
Aside from the daily fixes, the long Chinese data on the docket is the property price report due at roughly 0130 GMT.
Commitments of Traders
Speculative net futures trader positions as of the close on Tuesday. Net short denoted by - long by +.
EUR -146K vs -161K prior JPY +25K vs +4K prior GBP -31K vs -30K prior AUD -12K vs -14K prior CAD -59K vs -60K prior NZD +2K vs +2K prior
The lack of interest in fresh AUD and NZD shorts shows the effect of negative carry but the unwillingness to bet against GBP is a surprise. Yen specs switched to long for the first time since Oct 2010 last week and they are beginning to pile in.
Act
Exp
Prev
GMT
TD Securities Inflation (DEC) (m/m)
0.1%
Jan 17 23:30
TD Securities Inflation (DEC) (y/y)
1.8%
Jan 17 23:30
Tertiary Industry Index (NOV) (m/m)
-0.6%
0.9%
Jan 18 4:30
Industrial Production (NOV) (m/m)
1.4%
-1.0%
Jan 18 4:30
Industrial Production (NOV) (y/y)
1.6%
Jan 18 4:30
House Price Index (DEC)
0.9%
Jan 18 1:30
Latest IMTs