Intraday Market Thoughts
Oil Nears Tipping Point
Crude oil is flirting with the 200-day moving average as OPEC tightens the market and the US squeezes Iran. The US ADP employment report and ISM non-manufacturing index are both due up next. All currencies are up against the US dollar except for the yen. AUD leads the way. Our long US crude oil Premium trade entered at 51-54 remains in progress.
ماذا بعد جني الأرباح؟ (فيديو المشتركين)
Year-to-date, US crude oil is the 2nd highest performing commodity up 38%, behind gasoline's 46%. Crude is now flirting with several key technical levels that will be pivotal in the days ahead. The main one is the 200-day moving average. It was broken in WTI on Tuesday but sits just above the Brent high of $69.57. Next is psychological resistance at $70.00 and just behind that is the Aug 2018 low (now resistance) at $70.30. If those break, watch the 61.8% retracement of the Q4 plunge at $72.68.
It's increasingly clear that Saudi Arabia is determined to tighten global supplies. They've nearly halted exports to the US and OPEC is pumping at four-year lows. Saudi officials were frustrated in September when the US granted sanctions waivers to Iran's biggest customers but news on that front may also be bullish with the US's envoy to Iran saying Tuesday that with crude prices still relatively low, they were on the 'fast track' to curbing exports to zero.
Investment in oil is low this year and speculators remain deeply skeptical of crude. Even with the jump so far this year, there is little enthusiasm in the market. A rise to Brent at $70 will likely trigger some producers to hedge but that may just stretch out a rally towards later in the year.
Another spot we have been watching closely is Bitcoin. Ashraf has been touting longs for weeks (see below) and the 15% rally added to the upside. What's unclear is what was behind the rip in cryptocurrencies. There has been non-stop speculation but the only coherent thing we've seen is talk of a $100m order but that still doesn't explain why someone would flood the market with bids.
Click To Enlarge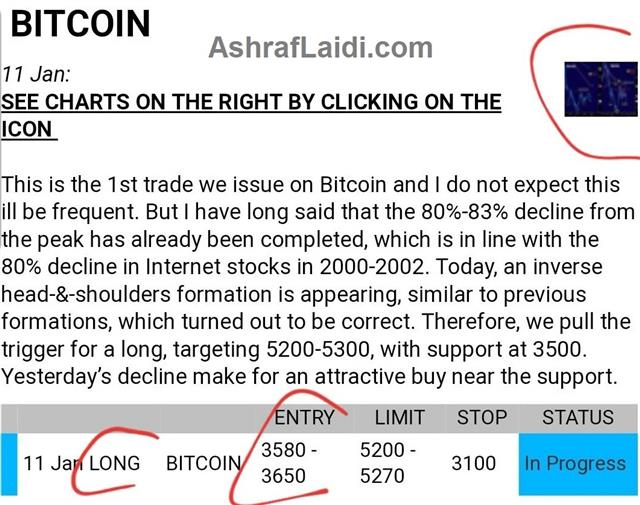 Looking ahead, the ISM non-manufacturing index is a key report to watch in the day ahead. The US economy has sent out confusing signals including on Tuesday when core durable goods orders were soft once again. Also note that US drugstore giant Walgreens reported same-store sales down 3.8% y/y in Q1 as earnings get underway. The consensus for ISM is a dip to 58.0 from 59.7. The ADP employment report is expected at 175K from 183K.
Act
Exp
Prev
GMT
ADP Employment Change
184K
183K
Apr 03 12:15
Core Durable Goods Orders (m/m)
0.1%
0.3%
-0.2%
Apr 02 12:30
Latest IMTs