Intraday Market Thoughts
Onto the Bank of Japan
The highly anticipated Bank of Japan decision is due around 22:00-23:00 Eastern (03:00-04:00 BST/London) and is expected by most analysts to issue a set of broad measures: i) raise annual JGB purchases to JPY 90-100 trn from JPY 80 trn, ii) boost ETF purchases to JPY 4.0-4.5 trn from JPY 3.3 trn, iii) cut policy rate from -0.1% to -0.3% to -0.4% and; iv) cut the interest rate on reserves. This is not the first time that the majority of economists polled by Bloomberg and Reuters expect such aggressive measures. So why this time?
Click To Enlarge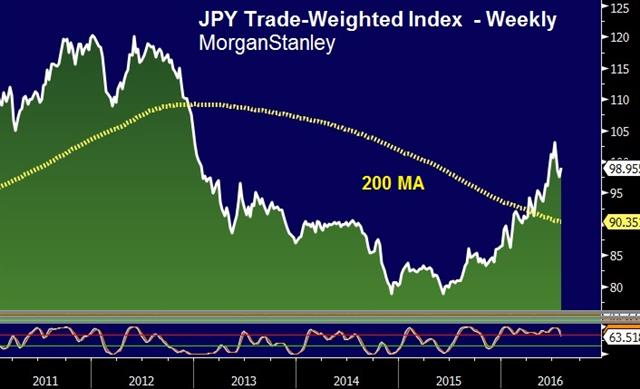 PM Abe's LDP landslide win in this month's Upper House elections was considered as another go-ahead for him to force the BoJ into another all-in policy stimulus of higher asset purchases to reverse zero-bound inflation and fresh yen strengthening. Said differently, Abe's main targets are to avoid sub 100 USDJPY exchange rate and sub-1.0% inflation rate.
Although global equity have been rallying, the yen remains stubbornly close to the 100 level, inflation is slowing and firms can't be relied on to raise salaries. Kuroda is known for surprising with large scale QE in April 2013 and October 2014 and with negative rates in January 2016. Will a surprise be expected? Is it priced in the market? We will see. A new tactical trade was added to the Premium Insights with 2 charts, in combination of existing JPY trades.
Latest IMTs