Intraday Market Thoughts
OPEC Gets Some Help, CAD = Anti Yen
A group of 13 non-OPEC countries on Saturday pledged to join the cartel in cutting production in January. The Canadian dollar was the top performer last week while the euro lagged. CFTC positioning data showed an aggressive shift into yen shorts. A 2nd CAD trade was added to the existing one, which is over 100 pips in the green.
Click To Enlarge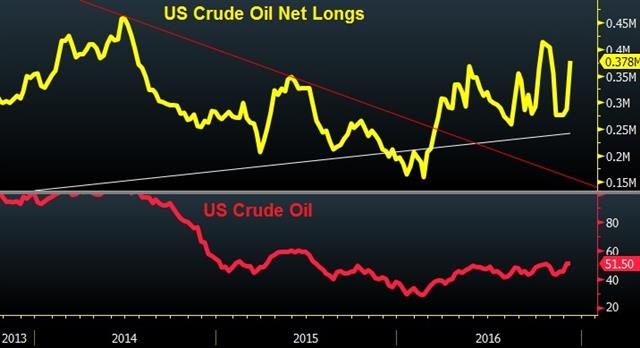 A diverse group of non-OPEC countries from around the world pledged to lower output by nearly 600K barrels per day in tandem with the OPEC cuts announced a week earlier. Russia, Kazakhstan, Oman and Malaysia are part of the group who hopes their participation will boost oil prices close to $60.
The announcement is a win for OPEC and oil bulls but there are questions about whether the cuts are real. Many of the participants were in-line for natural production declines anyway.
The other concern is compliance. With nearly 25 countries now pledging to limit production, any sign of cheating could quickly cause the entire exercise to unravel. To their credit, many of the large OPEC producers have already told their customers that deliveries will be curtailed.
WTI crude was flat on the week as it consolidates just below the key $52 zone. The gains in oil have weighed on USD/CAD, which has now fallen in 7 of the past 8 days.
On Friday, the pound concluded its fourth consecutive day of declines with Fitch affirming its AA-rating and negative outlook. They highlighted a wide range of uncertainties regarding Brexit but said their baseline was that Article 50 will be invoked in Q1 and that Britain will leave the EU two years later. Cable remains in a two-month minor uptrend but it's testing the supporting trendline.
Economic data to begin the week includes Japanese machine orders for October at 2350 GMT. The consensus is for a 1.1% m/m rise but a 4.9% y/y decline. Optimism about the latest round of yen weakness providing a lasting industrial stimulus is nil.
Commitments of Traders
Speculative net futures trader positions as of the close on Tuesday. Net short denoted by - long by +.
EUR -115K vs -119K prior JPY -34K vs 0K prior GBP -77K vs -78K prior CHF -25K vs -24K prior AUD +21K vs +21K prior CAD -18K vs -19K prior NZD -2K vs +2K prior
The only notable move was a big one – the Japanese yen. Speculators were beaten up by yen longs in the aftermath of the US election and now they have finally thrown in the towel and quickly piled into shorts. The move higher in USD/JPY has been swift and dramatic but there is still plenty of ammunition on the sidelines.
Act
Exp
Prev
GMT
Core Machinery Orders (m/m)
1.3%
-3.3%
Dec 11 23:50
Latest IMTs