Intraday Market Thoughts
Peculiar Intermarket Moves
Another US tech-Selloff-Monday as yields bounce off the 1.45% support to regain 1.50%, dragging Nasdaq100 by 2.4%, Dow30 by 1.15% and SPX by 1.6%.
Interestingly, Bitcoin oil and gold are both firmly higher and USD is down across the board
. Ashraf tells me that such
unusual intermarket moves often occur at points of key junctions in the market. Whether these moves signal the last throes of indices selloff and/or start of USD pulback
remains to be seen. Market participants already had plenty to worry about, but the list grew on Monday with a
report stating the US will outline how China hasn't lived up to Trump's Phase
One trade deal. China is on holiday through Thursday.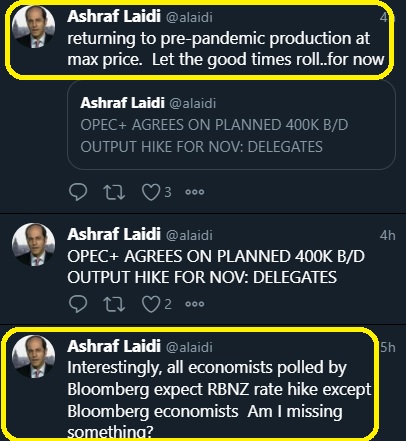 In the trade deal, China had agreed to purchase an additional $200B of US exports but US Trade Representative Katherine Tai will announce Monday that China is not complying with purchases running at 62% of target with only three months remaining.
The report says the USTR will float tariffs as one possible response. No doubt China will point to the impacts of the pandemic as one reason for the shortfall.
The market was in a good mood on Friday and that carried over into early-week trade. US August PCE core inflation rose 3.6% y/y, matching the consensus. Within the report was a reminder that the US savings rate – at 9.4% -- remains remarkably high. Along with inventory rebuilding, that will be a lasting tailwind for growth.
Part of the reason for
Friday's market optimism in markets was a drug from Merck that was tested on people who had mild-to-moderate covid symptoms for five days and other risk factors.
The anti-viral pill lowered the chance of hospitalization by 50% and the results were so encouraging that US officials ended the trial early. The pill may ultimately go a long way toward one day getting back to 'normal' life. But the
stagflationary confusion continues to weigh on sentiment.
Latest IMTs