Intraday Market Thoughts
Picking Tops or Following Through?
What is more difficult? To short a market at its the highs, or short it
after
it has fallen by 3.0% without getting squeezed? We heard all of sorts of technical, quantitative and fundamental analysis making the case for a top in NASDAQ, S&P500, DOW30 etc.
Breadth
was too low (rally was concentrated among few companies),
momentum
was way overbought and PE
multiples
were nearing 2000 levels. But the bulls also had their arguments—
sector rotation
was replacing the void, making the case for a broadening rally (sector-wise rather than number of shares). We initially went short the NASDAQ last week and got burned, then did so with the DAX and got stopped out by 40 pips before it tumbled 500 pts. So what did
you
do in Thursday evening?
Here is the OPEN-ACCESS link for our Premium video, making the case for a new Premium trade —more importantly, please make sure to focus on the rationale, the analysis and the execution.
And below are a few
comments from members of our WhatsApp Broadcast Group
who in addition to receiving the Premium video (like the rest of Premium subscribers), were sent a series of voice and written notes via WhatsApp before and after Friday's NFP, guiding them through Friday's 3% swings (+ and -) in the DOW30.
Click To Enlarge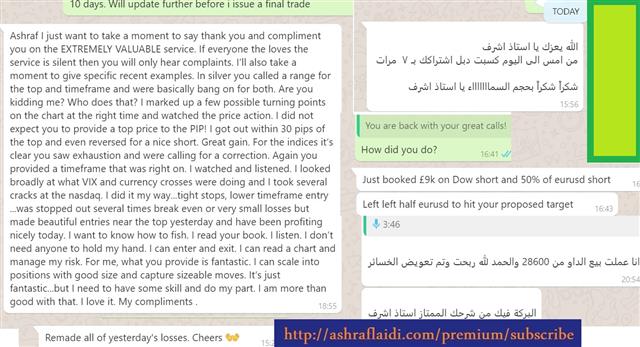 Latest IMTs