Intraday Market Thoughts
Pollster's Paradise
The power of polls was on display Tuesday as the pound sterling dropped after fresh numbers showed the 'leave' side in the lead. The New Zealand dollar was the top performer while GBP lagged. Australian GDP and the Chinese PMI are due up next. A new Premium trade has just been issued in GBP, backed by 2 charts and 5 reasons.
Click To Enlarge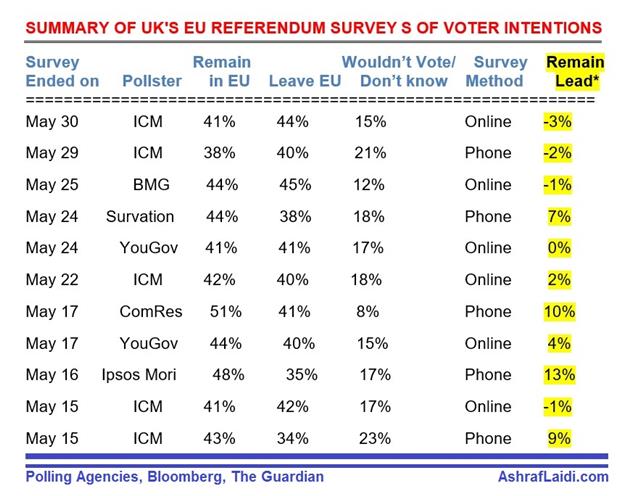 From now until June 23 there will be a heavy emphasis on Brexit polls. The importance was on full display Tuesday. Cable was creeping higher in US trading and at 1.4650 but an ICM/Guardian poll crossed and the pair dropped 80 pips quickly and then continued to slide all the way to 1.4465 in the remainder of trading.
There were two polls, the one conducted by telephone showed 45-42% in favor of leaving and one online was at 47-44% for leaving. The undecided votes were left out and that's a critical detail. In many, similar historical situations, including the Scottish separation vote, a wave of fear on voting day almost always grips the undecided voters and some of those in favour of change.
Bookies continue to show the 'remain' side far ahead and that argues for buying GBP dips but the timing and levels are critical. The decline Tuesday brushed up against the uptrend since April and the 55-day moving average is about 100 pips lower followed by the 100-dma and May low, which are both near 1.4340.
For the month of month of May, the US dollar was easily the top performer, followed by the pound in a sign of the waning Brexit hopes. The Australian and Canadian dollars were the laggards.
At 0100 GMT, it's the official China manufacturing PMI. No one ever really knows exactly how the Chinese economy is doing but worries have ebbed in the past two months. They could flare up quickly on a soft reading. The consensus is 50.0 and the Caixin reading is due 45 minutes later and is expected at 49.2.
The big release of the day is at 0130 GMT with Australian GDP. The consensus is for a solid 0.8% q/q rise, but markets have likely adjusted higher since yesterday's very strong export figures in the current account report. It may take a reading as high as 1.0% to get AUD moving (and send the RBA to the sidelines).
Act
Exp
Prev
GMT
Chicago PMI (MAY)
49.3
50.9
50.4
May 31 13:45
Latest IMTs