Intraday Market Thoughts
Populism's Pendulum Swings Back
A surprisingly strong election result for Merkel's party in Germany's most-populous state along with Macron's win and Trump's stumbles could signal that populism is in reverse. The dollar was the top performer last week while the Swiss franc lagged. Silver is leading the pack in Monday trading, highlighting the continued rebound in metals (see latest Premium note on gold last week). CFTC positioning data showed a rush into euros in some of the biggest one week swings we've seen in years.
Click To Enlarge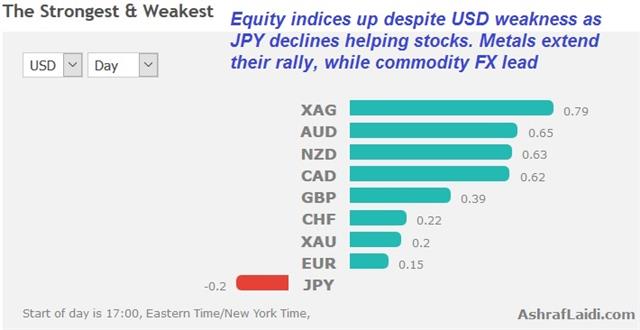 The establishment has a knack for pivoting and remaining in power. The Brexit and Trump wins were heralded as a rising tide that would swamp traditional politics but instead it may prove to be a rogue wave that hits hard but quickly washes away.
Brexit may have been a win for populism but it's also on track to be a win for UK Conservatives. By dumping Cameron, installing May and switching the party's position on the EU, the party is poised for a landslide victory in June's election. In the US, it's still early but Trump's struggles may be turning global voters away from his style of politics.
Le Pen clearly lost momentum in the later stages of the campaign and Merkel is once again proving she's a juggernaut. The race for North Rhine-Westphalia was too-close-to-call ahead of Sunday's vote but exit polls showed her CDU party beating out the incumbent SDP by a margin of 34% to 31%. That's a great sign for the chancellor ahead of September's national vote.
In terms of trading, the ebb in populism mitigates one of the prime risks facing markets. With a quiet Summer calendar ahead, the positive drift in markets is likely to persist but we remain on guard for the day when the Chinese tsunami of bad debt finally hits.
CFTC Commitments of Traders
Speculative net futures trader positions as of the close on Tuesday. Net short denoted by - long by +.
EUR +22K vs -2K prior GBP -47K vs -81K prior JPY -36K vs -23K prior CHF -15K vs -18K prior CAD -86K vs -48K prior AUD +26K vs +43K prior NZD -11K vs -12K prior
The scope of the moves this week is unusual. The market is aggressively buying euros and pounds while dumping yen and Canadian dollars.The euro switched to a net long position for the first time since May 2014. In two weeks it switched from -21K to +22K. The market was caught a bit offside early last week as the euro slide but Friday's rally left it at 1.0930.
Latest IMTs