Intraday Market Thoughts
Quarterly Closes Point to More Ahead
As risk on is empowerd ahead on the 1st day of Q2, let's assess a few items. The euro closed Q1 at its lowest since November among those crucial charts closing at extremes. OPEC+agreed on gradual hikes. (more below). On the day and on the quarter, CAD was the best performer and the yen lagged. Below is the latest Bitcoin/Ethereum ratio chart.
Click To Enlarge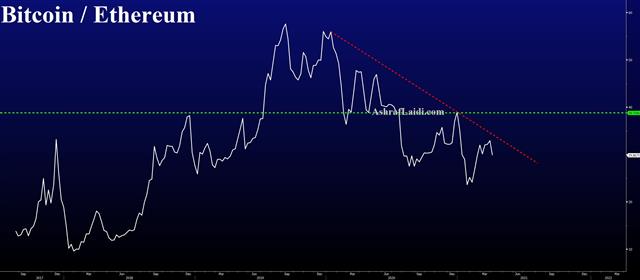 Quarter-end was a typically messy affair that saw some back and forth nonsensical 30-40 pip moves throughout the FX market. What stands out is how many charts finished at the extremes – something that's generally a continuation sign.
Given that we're right in the middle of the recover/reopening trade that's a good thing to keep in mind into Q2. CAD/JPY was the best trade in the quarter and it touched a fresh extreme on Wednesday. A number of currencies also hit new highs against the yen and Swiss franc. Both of these lagged badly in the quarter in a reminder that yield differentials are extremely powerful. EUR/USD also closed on the lows as Macron announced a one-month lockdown for France and the recovery fund efforts plod along.
Thursday's rally is interesting because non-farm payrolls will be released Friday with the market closed. One would expect some risk being pulled off the table in stocks and bonds. Yet we saw little in the way of portfolio rebalancing flows.
OPEC+ Reaches Gradual Agreement
OPEC+ reached a deal to lift production gradually into Q2. This may help prices on the premise that Saudi sees robust demand ahead and has vowed to closely monitor production. The question then remains that of compliance. Will all members join in these gradual production hikes? Who and how much will they cheat?
Trendline resistance stands at 61.55/60, followed by the right shoulder near 62.50/70.
Latest IMTs