Intraday Market Thoughts
Resilience or BTD?
Equities extend their Monday rebound into Tuesday amid a combination of reflexive buy-the-dip forces deployed around key support levels of 23800-20 in the DOW30 and 2588-92 on the S&P500 and constructive remarks on trade and tariffs from the both the US and China. Meanwhile, all eyes are on Google as its CEO testifies to Congress on data privacy and other matters. Currencies remain uup against the dollar, with the exception of CHF and EUR, which lost ground in the last hour as equities pullle back from their session highs. The ZEW survey is a data point to watch in the day ahead. The previous DOW30 Premium trade was stopped out and a new one has been entered, currently in the green over 140 pts.
Click To Enlarge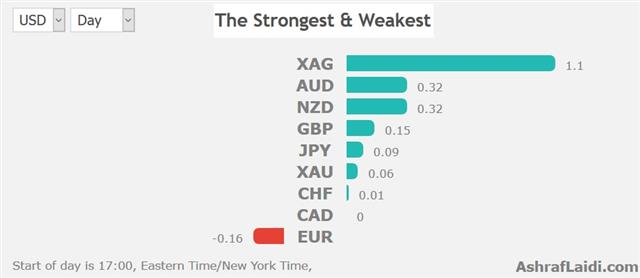 The S&P 500 rebounded 2% from the lows of the day. The rebound came after a break of the all-important October low. The close higher is a small sign of optimism but there was a similar reversal last Thursday that amounted to nothing. Beware of the higher lows in the daily RSI for the DOW30 and S&P500.
A sign of resilience that was more impressive may have come in USD/JPY. On Monday there were strong risk-off and risk-on tones but the pair tracked 100 pips higher from the lows to finish at 113.32.
In the bigger picture, it's a similar story as the pair holds well-above the October lows. It's also shrugged off the dramatic drop in US Treasury yields in the past few weeks and fading hopes for Fed hikes in 2019. Technically, USD/JPY remains stuck in its recent range but it will bear close watching as sentiment stabilizes.
The 8-pt decline in the German November ZEW headline figure of -17.5 versus -25.0 was the final piece of the puzzle for the ECB. Data has surely disappointed but the central bank retains guarded optimism.
Latest IMTs