Intraday Market Thoughts
Supply Crunch-Time
Are supply shocks officially in? Monday's US ISM manufacturing report missed estimates but the reason why was more worrisome than the miss itself. US March factory orders rose 1.1%, lower than the expected +1.3%. The
chart below
shows
CAD and GBP are the strongest currencies
in G10 FX this year
, followed by AUD in 3rd place. JPY and gold are the weakest. A
new Premium trade has just been posted
. There are
currently 3 Premium trades in progress
, all are in FX.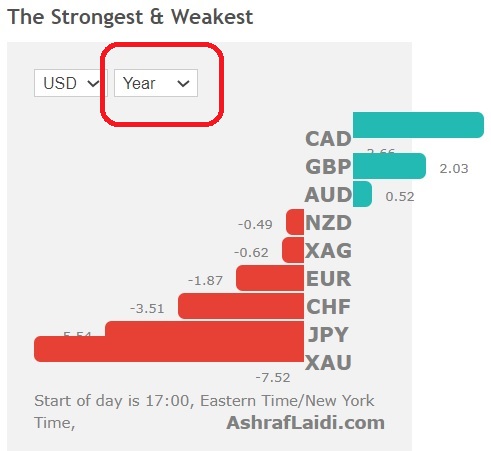 The ISM manufacturing index was at 60.7 in April compared to 65.0 expected. That's still a healthy level but it's a significant miss and led to a round of US dollar weakness.
However we would caution reading this report as a sign of faltering demand. Repeated comments in the report highlighted supply chain problems including semiconductors, steel and workers. The survey showed 11 positive comments for every negative one compared to an 8:1 ration in March.
"In 35 years of purchasing, I've never seen everything like these extended lead times and rising prices," one comment in the report said.
A big drag in the Q1 GDP report released last week was falling inventories. This report highlights the ongoing contraction there with companies unable to restock and continuing to draw down supplies. That will be a further headwind in Q2 but those will eventually be rebuilt.
In the meantime, companies are finding increasing pricing power – something Warren Buffett highlighted on the weekend.
It's still early but we sense that we're heading into a new chapter in the reopening where shortages are the main problem. It may have started with Ford last week who said it would miss production targets due to the semiconductor shortage. If those shortages hit at the same time as demand reopening creates more price-insensitive buying, it could lead to a spike in inflation to above the Fed's comfort zone.
Latest IMTs