Intraday Market Thoughts
That Familiar Sinking Feeling
We take a look at the ongoing breakdown in oil and what it means. The yen was the top performer on Monday while the loonie lagged. We also look at the US election as the DNC gets underway. The Premium video, titled "Between the Fed & the BoJ" is posted below and focuses on the existing trades ahead of the Fed & BoJ as well as the divergence between oil and stocks as well as the other variables in the equation.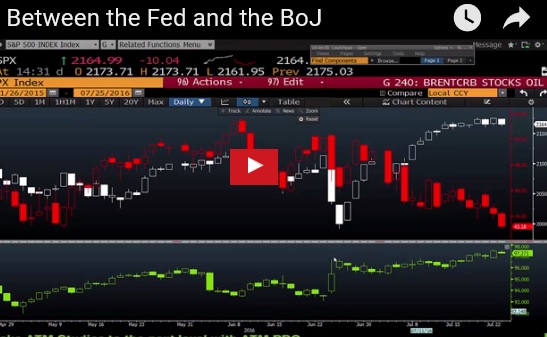 Oil fell to the lowest since late April on Monday on signs of mediocre demand and rising rig counts. The underlying story of massive overproduction hasn't changed despite four months of crude oil gains. Seasonally, July-August is when the outlook becomes increasingly negative for crude and that's playing out once again this year.
In the big picture, market watchers have downplayed the large role that commodities and commodity company worries played in the market routs last August and early this year. The bounce in resources since the Feb lows have led to a massive rally in junk bonds but little has changed fundamentally and a fresh rout in oil would stir up unresolved problems. It could be compounded by dollar strength if the Fed (mis)steps towards hikes again.
In FX, the Canadian dollar is invariably tied to oil. On Monday, USD/CAD broke out of a three month consolidation pattern; to the highest levels since March. Housing jitters on the West coast are also re-emerging after the BC provincial government announced a 15% tax on foreign buyers of real estate. That's the kind of move that could pop, rather than deflate the bubble.
Aside from CAD and oil, trading was restrained on Monday as the market awaits the Fed and BOJ. On the latter front, Nikkei reported that stimulus spending may be double the 3 trillion announced and that led to a small, fleeting rally in USD/JPY. The market remains doubtful that the BOJ and MOF won't bring a big enough bazooka to boost the pair.
Early in Asia-Pacific trading, New Zealand reported a NZ$127m trade surplus in June compared to NZ$150m expected. That's down from $348m in May but it was largely disregarded by the market.
The remainder of the session lacks market-moving data but the Democratic National Convention gets underway. The latest polls and models are showing Trump ahead or in a dead heat. The market is in a bit of denial about Trump and what it means about globalization. That's partly due to doubts about whether or not he's serious about any of his talk.
In the meantime, Hillary Clinton will need to quell Sanders supporters and spark a bit of inspiration in her dull campaign. If not, she risks seeing her soft supporters staying home on voting day.
Latest IMTs