Intraday Market Thoughts
The Reluctant Hawk
Mark Carney cast himself as a less-enthusiastic hawk on Monday while the BoC flexed its jaw muscle. The US dollar was the top performer while the Canadian dollar lagged. The RBA meeting minutes are due out later.
Click To Enlarge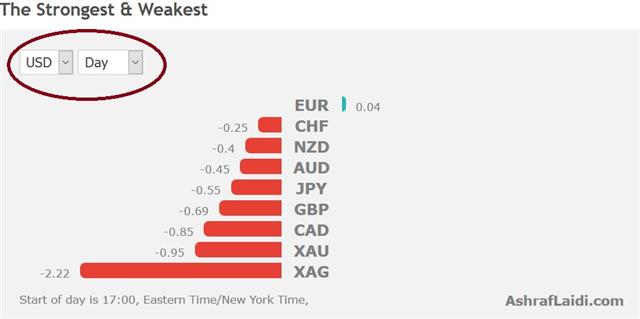 BoE Governor Carney had a chance to fine-tune his comments Monday, reiterateing that some tightening might be needed in the coming months. However, he also said that monetary policy may have to 'move in order to stand still' because rates are rising elsewhere.
In headline-driven markets, that's what stood out but a closer inspection showed that was just a small part of his overall justification for hiking. A bigger reason – and one that will last longer – is that he believes Brexit will be inflationary. Others may differ but the market voted for lower GBP on the overall message, perhaps more in a nod to the outsized recent gains than a genuine re-think on the path of rates. Cable fell a cent on the day.
In the bigger picture, a shakeout is emerging in markets trying to make sense of central bank policy. The BoC showed that the shift from dovish, to neutral to two rates hikes can take place in six months and we are all on the lookout for the next target. There are also signs the BOC is having second thoughts. Deputy Governor Lane said Monday that they will be "strongly" taking into account the CAD leap in upcoming decisions. That spooked loonie traders and sent USD/CAD nearly a full-cent higher.
Maybe the more-interesting comment in his speech was that rates are still relatively low compared to what they believe is the neutral level. It's another sign of how jumpy markets are right now. That means opportunities will abound in the weeks ahead.
Or even the day ahead. The RBA Minutes are up next as the market tries to sort out which way Lowe will tilt. The headlines are due at 0130 GMT.
Latest IMTs