Intraday Market Thoughts
Thoughts on a Rethink
The price action in markets Thursday makes an interesting case for a better turn in risk assets, we take a closer look. CAD was the top performer on the day while the yen lagged. Japanese Jan CPI was unchnaged y/y as expected. Ashraf has just added a new trade 10 mins ago from sending this post. Detailed charts and commentary will be sent out momentarily.
Click To Enlarge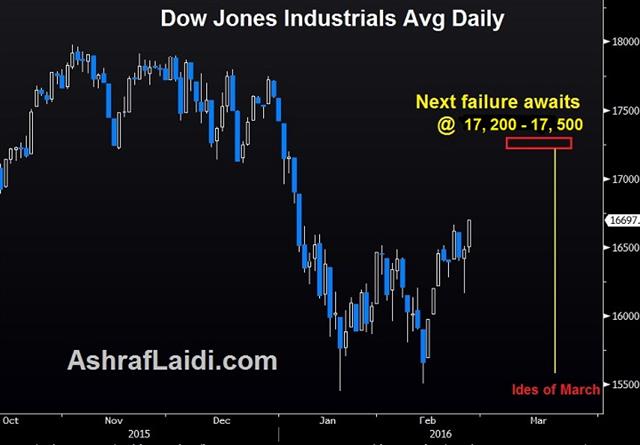 The S&P 500 broke and closed above a double-top at 1946 in the second day of gains following the turnaround yesterday. The long-suffering durable goods orders report easily beat expectations with a 4.9% rise compared to the 2.9% consensus. Details and revisions were also strong. It was on Jan 25 when Ashraf issued a detailed note/video titled "How High the Rebound", where he outlined the case for a corrective rally in US and global equity indices. It's especially impressive that the gains came on a day when the Shanghai Composite fell 6.4%. Earlier in the day oil prices were also lower.
Understanding and confidence might be the two big changes since the start of the year. In January, there was so much confusion about what was happening in commodity markets, China and the global economy. It led to some wholesale liquidation of risk assets.
In the past two weeks, the market may have discovered a better understanding of what's going on. Yes, commodity companies and resource exporting countries will struggle but that probably won't lead to major problems in the financial sector and spread to the real economy.Or will it?
There is also a growing confidence that the US economy is fine and that China isn't in the midst of a crisis. That's a low bar but exceeding it is enough for a continued gains in risk assets. The Fed's Williams underscored that outlook Thursday, saying the US economy is growing 'very well' and that he's less concerned about China than others.
Oil remains the wildcard in the equation but prices have lately proven resilient to supply builds and a retracement to $38 is certainly possible if resistance at $35 gives out. USD/CAD is certainly signaling optimism as it broke below at double bottom at 1.36. We warm, however, that oil settlement flows tend to peak around the 25th of the month so that may have exaggerated today's move.
Another theme we continue to track is the ability of developed market commodity exporters (CAD, AUD, NZD) to withstand the rout. Yesterday's Australian capex numbers were surprisingly strong and today's New Zealand trade numbers showed an $8m surplus on strong exports compared to the $271m deficit expected. Perhaps those weak currencies are doing what they're supposed to be doing – attracting investment.
Looking ahead, Japan CPI for Jan is due at 2330 GMT. The consensus is for a flat y/y reading. The Feb Tokyo numbers are forecast to show a 0.3% contraction in prices
Act
Exp
Prev
GMT
Tokyo CPI (FEB) (y/y)
0.1%
-0.3%
Feb 25 23:30
Tokyo CPI ex Fresh Food (FEB) (y/y)
-0.1%
-0.2%
-0.1%
Feb 25 23:30
National CPI (JAN) (y/y)
0.0%
0.2%
Feb 25 23:30
National CPI Ex-Fresh Food (JAN) (y/y)
0.0%
0.0%
0.1%
Feb 25 23:30
Tokyo CPI ex Food, Energy (FEB) (y/y)
0.5%
0.4%
Feb 25 23:30
National CPI Ex Food, Energy (JAN) (y/y)
0.7%
0.8%
Feb 25 23:30
Durable Goods Orders (JAN)
4.9%
2.5%
-5.0%
Feb 25 13:30
Durable Goods Orders ex Transportation (JAN)
1.8%
0.2%
-1.2%
Feb 25 13:30
Exports (JAN)
$3.90B
$3.74B
$4.43B
Feb 25 21:45
Latest IMTs