Intraday Market Thoughts
Trade Highlights China Slump; CFTC Misstep
Weekend trade figures raise fresh questions about the health of the Chinese economy and the implications for its trading partners. The US dollar is higher in early trading as the NFP momentum continues. CFTC data showed more euro sellers and a misstep from cable traders.
Click To Enlarge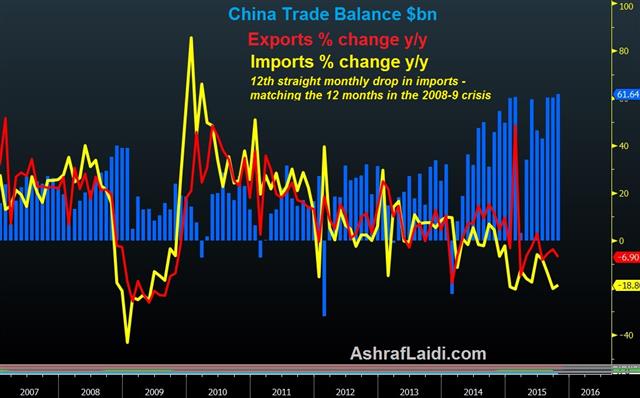 Confidence in the US economy was the message from the Fed's Williams on the weekend but evidence of a slowdown in China and the global economy continues to mount. China released weak trade balance numbers on the weekend. Imports fell by 18.8% y/y compared to 15.2% expected but perhaps the more worrisome number in the latest data is a 6.9% y/y decline in exports compared to -3.2% forecast. It was the 12th straight monthly drop in imports , matching the 12 months of decline in the 2008-9 crisis.
The soft imports number could be explained away by China investing less in infrastructure but the sharp weakening in exports is extremely difficult to explain for an economy that's supposedly growing at a 6.9% pace.
Since late August the market has increasingly brushed aside Chinese data in the belief that Chinese stimulus will eventually overcome the slowdown. That's the theme once again in early trading as the Australian dollar trades down just 10 pips early in the week.
China has proven resilient for the past two decades and that's a recipe for complacency. Chinese stocks climbed nearly 8% in the final three trading days of last week but still remain 30% below the June peak.
Commitments of Traders
Speculative net futures trader positions as of the close on Tuesday. Net short denoted by - long by +.
EUR -134K vs -106K prior JPY -44K K vs -34K prior GBP 0K vs -34K prior AUD -39K vs -36K prior CAD -19K vs -19K prior
It's the second week in a row of a large increase in the euro net short. Bets against EUR have more than doubled since Draghi strongly hinted at more action in December. The US dollar will get a fresh tailwind in next week's data from the US jobs data. The other big move was in the pound but it shows how badly speculators misread what was coming from the BOE. That kind of whipsaw will make traders wary of the pound for awhile.
Act
Exp
Prev
GMT
Trade Balance (OCT)
$61.64B
$62.00B
$60.34B
Nov 08 3:00
Trade Balance (OCT)
393.20B
376.10B
376.20B
Nov 08 3:00
Imports (OCT) (y/y)
-18.8%
-16.0%
-20.4%
Nov 08 2:00
Imports (OCT) (y/y)
-18.8%
-15.2%
-20.4%
Nov 08 3:00
Imports (OCT) (y/y)
-16.0%
-11.7%
-17.7%
Nov 08 3:00
Exports (OCT) (y/y)
-6.9%
-3.0%
-3.7%
Nov 08 2:00
Exports (OCT) (y/y)
-6.9%
-3.3%
-3.7%
Nov 08 3:00
Exports CNY (OCT) (y/y)
-3.6%
-3.1%
-1.1%
Nov 08 3:00
Latest IMTs