Intraday Market Thoughts
USD Falls Down Jackson Hole
Selling USD remains the status quo for now after Fed Chair Yellen stayed away from any monetary policy remarks in her speech at the Jackson Hole symposium. USD bulls were hoping for some references to an improved economy but Yellen did not bother. The other reason (less obvious) to USD selling is Yellen's recognition of the Fed's regulatory efforts in successfully staving off financial system instability after the 2008-9 recession and that "the core reforms we have put in place have substantially boosted resilience". The remarks are at odds with president Trump's intentions to minimize financial regulation, which raises the probability that Janet Yellen will not want to stay on as Fed Chair when her term expires in January. We closed out of our EURUSD long with 150-pip gain. 3 charts and notes have been added to signal our next step.
Click To Enlarge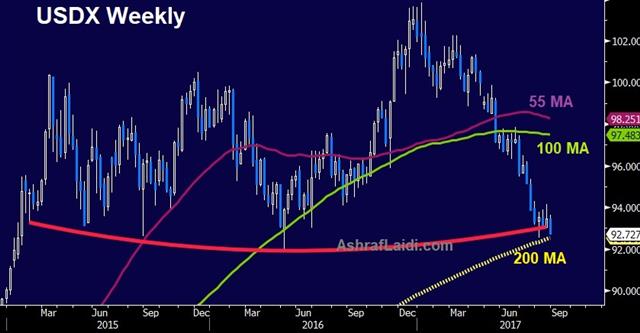 Since a Yellen exit currently implies White House economic adviser Gary Cohn to be her most likely successor, it raises worries about the prospects of any remaining credible economic and financial policy-making in the White House.
Odds of Dec hike remain unchanged near 37%. Draghi speaks at 8 pm London time and is likely to mention the positives of QE in installing stability in the economy and capital markets. That should not be negative for the euro at all, which is breaking above its 200-WEEK MA for the 2nd week out of 3.
Act
Exp
Prev
GMT
Eurozone ECB President Draghi Speaks
Aug 25 19:00
Latest IMTs