Intraday Market Thoughts
USD & Indices Rally after Hurricanes
US and global indices rallied across the board as fears of widespread damage from Hurricanes Harvey and Irma have ebbed slightly. Lack testing activity from Pyongyang also helped appease markets. The Hurricanes will weigh on Q3 GDP by 0.3%-0.4%, while the rebuilding boost may lift Q4 to as high as 3.5% from an expeccted 2.0% in Q3. Our DAX short was stopped out. A new Premium trade has been issued with detailed charts highlighting a crucial analog.
Click To Enlarge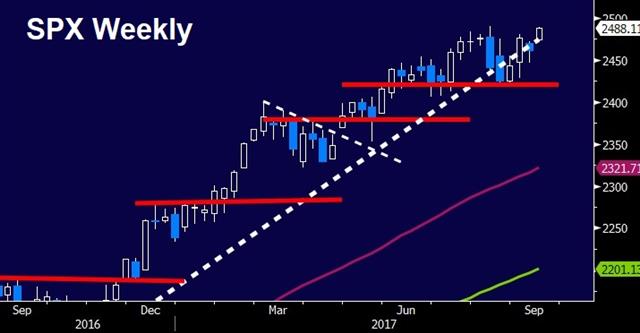 USD/JPY soared 150 pips to 109.50 from a Friday's low of 107.36 on Friday. The bounce brings the pair back above a few critical support levels, including the April low of 108.13. That one will be critical in the day ahead.
Estimates to the Hurricanes damage range from as high as $200 billion to $50 billion but in order for both storms to surpass the magnitude as a percentage of GDP as that reached in 2005, their combined damage would have to exceed $220 billion.
CFTC Commitments of Traders
Speculative net futures trader positions as of the close on Tuesday. Net short denoted by - long by +.
EUR +96K vs +87K prior GBP -54K vs -52K prior JPY -74K vs -69K prior CHF -2K vs -2K prior CAD +54K vs +53K prior AUD +65K vs +67K prior NZD +15K vs +19K prior
The overall moves were modest, likely as the market hunkered down ahead of the BOC and ECB, but the increase in the euro net long was enough to push it to the highest since May 2011.
Latest IMTs