Intraday Market Thoughts
USD Quarter of Extremes
Q1 ends with the US dollar the worst performer against all major currencies, several months after the majority of strategists and analysts competed on who could give the highest USD forecast. While we were mistaken in our USD call post-Trump victory, we rectified the situation in the first week of Q1 2017 by issuing tactical EURUSD trades, which later turned more directional. Our last USDJPY long was issued on Jan 10 and closed it near the March high moments before the release of the Feb jobs report.
Click To Enlarge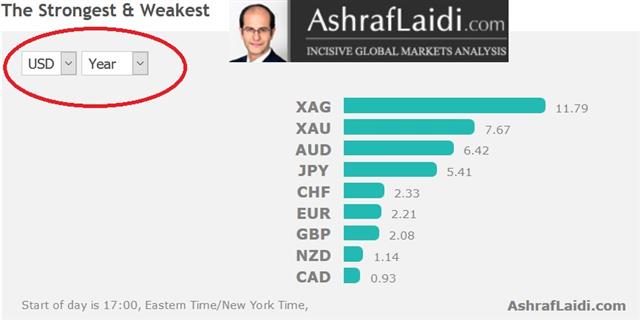 The last time all currencies ended higher against the USD was in Q1 2016, with GBP being the exception—the only decliner. With Q4 2016 having seen full USD outperformance and Q1 2017 full USD underperformance, Q2 2017 will prove more complex. USD bulls were favoured by a fresh onslaught of hawkish Fed rhetoric earlier this week, but as long as they do not depart from the 3 hikes forecast, any major USD headway is unlikely. On the other hand, if the likes of NY Fed's Dudley continue making remarks such as further rate hikes are "no great urgency", then USD shorts will need to be more tactical.
Earlier this afternoon we issued a new USD trade, but the bulk of our FX focus remains in crosses (non-USD pairs), in line with the unfolding risk-appetite picture. There are currently 8 open Premium trades: 4 in FX; 2 in indices and 2 in commodities.
Latest IMTs