Intraday Market Thoughts
USD Stabilizes ahead of Inflation
The US dollar is rising across the board in Monday asia trade on a combination of higher US yields and profit-taking following a difficult week. GBP is the worst perfomer due to resurfacing tensions in PM Theresa May's govt. Crucial US figures on US inflation are due up next. US core PCE is seen at 1.7% from 1.8%.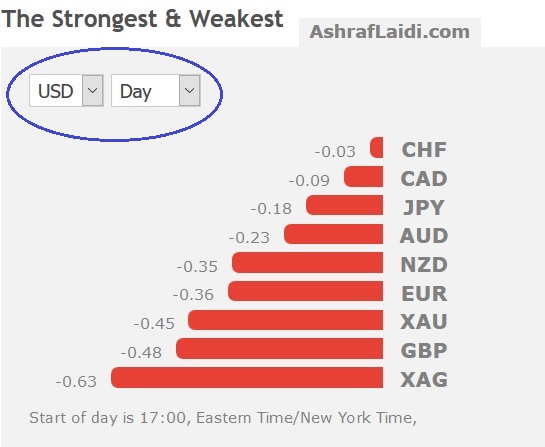 If there was a reason for the dollar selling on Friday it was the Q4 GDP report at 2.6% compared to 3.0% expected. Consumption was solid but business investment cut 0.67 points from growth. The good news is that some of that might have been deferred ahead of the tax plan. That helped to mitigate the US dollar selling, at least for a time.
As the day continues, USD/JPY fell lower and eventually erased Thursday's gains on Trump's 'strong dollar' talk. Even with Treasury yields and stocks continuing to rise, USD/JPY fell 85 pips on the day to 108.20s and touched a fresh four-month low. But USDJPY bounced back by about 70 pips after the BoJ issued a clarification that its inflation target remained intact despite some yen-positive statements from its Governor Kuroda indicating inflation was nearing target.
It was a similar story right across the board for the US dollar as market searches for more attractive investments elsewhere. There continues to be talk about repatriation but it's clearly not having any positive USD-effect.
The way the FX market chewed through good for the US dollar last week and bounces, leaves little doubt that the dollar will continue to struggle.
It may take a big event to turn around the dollar and there are two in the week ahead. Yellen's final FOMC meeting is on Wednesday and expectations are low for any type of change but if the FOMC collectively decides that a more-hawkish path is prudent, now is arguably a better time to signal it rather than after Powell takes the reigns at the end of the week.
It's also non-farm payrolls week, or what's should be called wages week. A sudden rise in average hourly earnings could cause a quick rethink in markets. The market is pricing in just a 57% chance of three hikes this year and given the euphoria in markets and rise in commodity prices, that's beginning to look low.
CFTC Commitments of Traders
Speculative net futures trader positions as of the close on Tuesday. Net short denoted by - long by +.
EUR +145K vs +139K prior GBP +33K vs +26K prior JPY -123K vs -119K prior CAD +23K vs +18K prior CHF -22K vs -21K prior AUD +17K vs +10K prior NZD -1K vs -8K prior
Euro net longs extend to record highs. The market must be torn on cable at this point. There has been a huge rally but it's tough to jump in now. At the same time, the enormous short-yen positions are getting decimated.
Latest IMTs