Intraday Market Thoughts
We're a ways away
"I think we're a ways away from having had substantial further progress toward the maximum employment goal"
. This was the
most decisive sentence from yesterday's Fed press conference
(deciding market direction).
As soon as Ashraf read this phrase, he immediately alerted the WhatsApp Broadcast Group members of the market-deciding sentence to engage in the gold, EUR and NZD trades
. Powell and the FOMC shifted communication to signal that they're closer to tapering asset purchases but the shift was small enough not to frighten the market. The US dollar initially jumped on the Fed decision (because of removing "substantial") but later sold off on the above phrase. Yesterday's pre-FOMC Premium trade is already +70 pips in the green. The first look at Q2 US GDP is up next.
Click To Enlarge
Click To Enlarge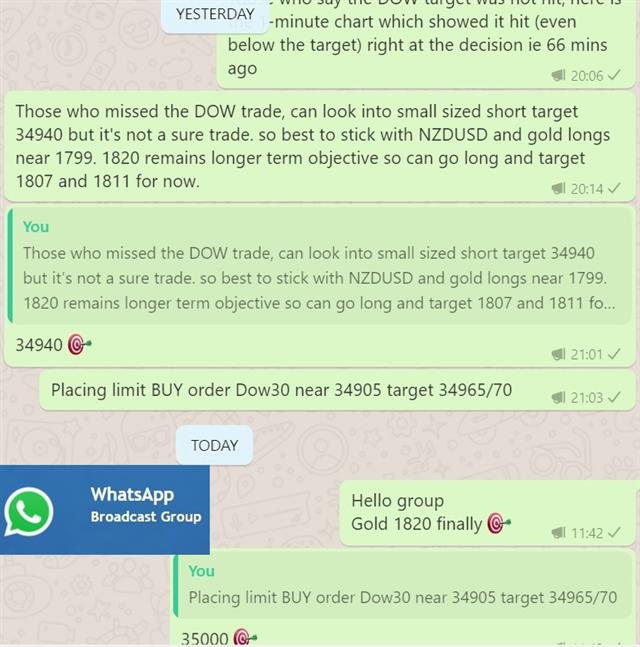 The first surprise came in the FOMC statement when the text was changed to say the Fed had made progress towards its goals. This was to reflect that that the US economy is closer to the 'substantial further progress' condition for tapering.
Powell underscored that in the statement by saying there was still 'some ground to cover' before hitting the employment goal, which lead him to make the "ways away" sentence mentioned above, which weighed on USD. He later repeated that same line, indicating it was planned. It's also a departure from two weeks earlier when he said they were 'still a ways off' from substantial further progress.
Powell also twice deferred to the committee regarding inflation and risks around the transitory baseline. That suggests there's disagreement on whether or not price rises will prove persistent or fade. Expect plenty of commentary along those lines in weeks ahead from the hawks and doves.
In terms of the market, the initial shift in communication boosted the dollar by 25 pips across the board but it later gave back double that amount. The thinking there may be that while a taper is inching closer, there's no rush. We will be carefully watching for any shift as the implications are digested.
Looking ahead, the advance look at Q2 GDP is up at 1230 GMT on Thursday alongside initial jobless claims. The consensus for GDP is an annualized pace of 8.6%, reflecting the reopening. Indications on business investment and inventories will be the place to watch. This week the IMF stretched out the timeline for the US recovery on some of those concerns. Ultimately that may be good news as it will keep the Fed from rapidly tightening.
Latest IMTs