Intraday Market Thoughts
What to Watch in the UK Leadership Race
Decent UK jobs and earnings data gave the pound a temporary nudge but GBP attention shall remain drawn to the nine men and women participating in the race to be the UK's next prime minister -- in what will be a short and intense race. GBP is the day's strongest performer after earnings/pay beat estimate. A new trade was posted yesterday shortly before the NY close. Below is the range of different odds on the candidates provided by the different betting shops.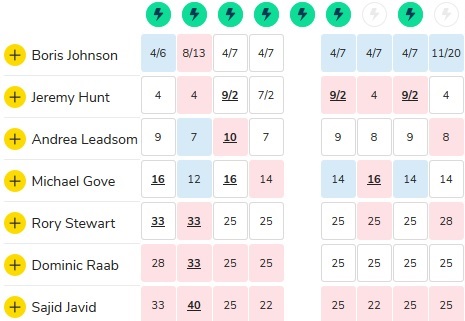 Candidates in the PM race are being peppered with questions about Brexit but they may do well to focus on the economy. At it stands, it will be difficult to beat Boris Johnson, who the bookies give about a 50% chance of winning the race, far ahead of any rivals.
Votes by MPs whittle the candidates down to a final-two before they're put to broad party membership. That means that most of the backstabbing and smearing will take place behind closed doors but some of it will surely spill into the open and that could leave GBP vulnerable. The first vote from MPs comes Thursday, crystalizing the field. The candidate with the lowest amount of votes and anyone with less than 5% support will be forced out. Others may drop out on their own or continue to votes on June 18, 19, 20.
Jeremy Hunt has emerged as a contender, followed by Andrea Leadsom, Sajid Javid, Michael Gove, Dominic Raab, Rory Stewart and handful of others. Like any election, it's unwise to place too much weight into any promises, especially surrounding Brexit.
The Evolving Transition
Notably, GBP traders should watch the extent to which staunch Brexiters (Johnson, Gove, Raab & Leadsom) make the transition from sticking to the Oct 31 Brexit deadline at all costs (deal or no deal), towards becoming more flexible and campaigning in favour of exiting
with
a deal.
Ashraf tweeted yesterday that "FX traders totally relaxed, showing increasing confidence of reaching #Brexit Deal as implied volatility dives to 5-wk lows. For a perspective, when #WithdrawalVote was rejected for 2nd time in late Mar, volatility soared to 3-year high...highest since referendum"
Ultimately, the one thing to watch for is Conservative unity. If the party remains splintered then it will continue to be deeply unlikely that a new leader changes the Brexit equation. Boris Johnson is particularly divisive so the pound may respond more positively if a candidate other than Johnson and Raab gain momentum.
Looking to the shorter term, the US calendar is light with the Fed in the 2-week blackout period. As it stands, there is a 76% chance for a 25-bp rate at the July meeting and over 80% chance of a similar move in September.
Latest IMTs