Intraday Market Thoughts
Why GBP is Year's Best Performer
Commodity currencies finally breath sigh of relief after better than expected China Q1 GDP helping oil to new highs for the year. UK CPI held at 1.9% y/y in March, while Eurozone CPI held at 1.4% in the same month. Canada CPI follows next. Let's talk about the UK but not Brexit. And here's a chart of the UK's economic surprise index versus the rest of the major markets, helping to explain why GBP is the best performing currency year-to-date. Currencies focus on flow and expected rate of change.
Click To Enlarge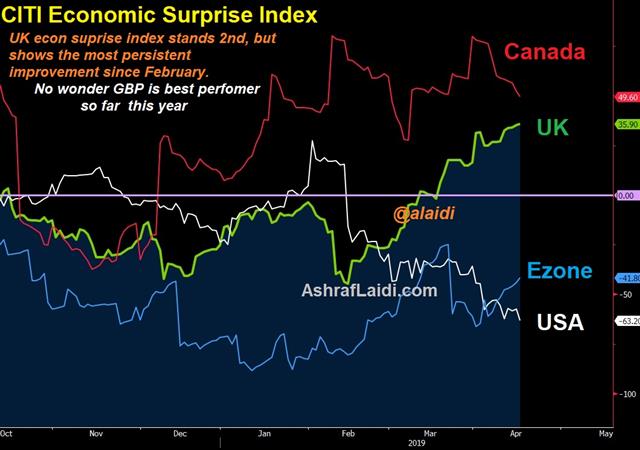 Brexit has absolutely dominated headlines and trading in the pound for months but a possible respite in talks is an opportunity for the market to focus on the other part of the GBP-trade: The economy.
UK unemployment held steady on Tuesday in what was largely a non-event for the pound. UK earnings growth at 3.5% y/y matched the high from 2008. Later in the day, negative comments from Corbyn about negotiations with May sent cable to the lows of the day at 1.3045.
While Brexit headlines will continue to be market movers, we're likely stuck in a holding pattern in the big picture. That means their impact will ebb, flow and likely fade in the days and weeks ahead. Instead, the market will turn its attention to economic data.
Today's UK CPI was described to have missed the target, but remains the best of both worlds: The highest CPI in the G7, but remains below the BoE's target. Thursday's retail sales report excluding auto fuel, sales are forecast to fall 0.3% after a 0.2% rise in February.
Some Brexiters may say: "We told you UK economy would do well despite Brexit", a possible reply would be "Because hard Brexit has been avoided so far".
Overall, UK GDP forecasts for this year have slipped to 1.2% from 1.5% at the start of the year but that's in-line with much of the developed world. Some of that is a result of Brexit uncertainty, which has diminished after spiking in March. The Citi Economic Surprise index at +36 is one of the better global readings so there have been some beats, albeit against very low expectations.
Given the negativity in GBP and the uncertainty, risks are skewed towards the upside but none of that can materialize until the data starts to show a growth pickup.
Act
Exp
Prev
GMT
Gross Domestic Product
6.4%
6.3%
6.4%
Apr 17 2:00
CPI (m/m)
0.7%
0.7%
Apr 17 12:30
CPI (y/y)
1.9%
2.0%
1.9%
Apr 17 8:30
Eurozone Final CPI (y/y) [F]
1.4%
1.4%
1.4%
Apr 17 9:00
Retail Sales (m/m)
-0.3%
0.4%
Apr 18 8:30
Latest IMTs