Intraday Market Thoughts
Why USD Rallied on Fed Stmt
The FOMC statement changed almost nothing and yet the US dollar climbed in the aftermath, we look at why. Since the start of the Friday FX trading session (as of 10 pm London last night), the US dollar is up against all currencies, with the exception from the JPY and CHF. The euro is weaker after Draghi made a slight dovish shift on Thursday. UK Q3 GDP grew to 1.5% y/y as expected from 1.2% in Q2. US Oct PPI is up next. A new EUR trade was issued ahead of yesterday's Fed statement and a new Index trade has been issued today, abcked by 3 charts & 3 technical reasons.
Click To Enlarge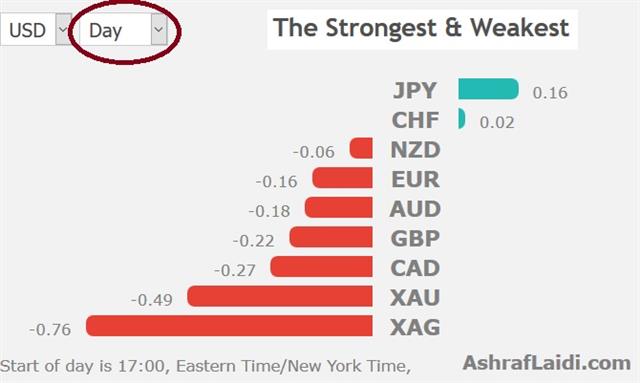 The only changes in the FOMC statement were an indication stating that business investment had moderated from a strong pace earlier in the year. Previously it was characterized as strong. Yet the US dollar climbed 20-50 pips across the board in the aftermath. Some of that might have been USD flows that were restrained until after the dust settled but the move was also about monetary policy.
FIRST: Heightened certainty of a December rate hike. There was some speculation that the Fed might want to keep its options open after the October drop in stock markets and the 20% fall in oil prices. Instead, they continued to categorize growth and employment as strong.
SECOND: Over the longer term, the Fed debate shifted to what will happen in 2019. Considering expectations of a tapering in fiscal policy after the Republicans' loss of the House, economist expectations range from one hike to four hikes. If the Fed intends to slow the pace early in 2019, now would have been a good time to offer a hint. By maintaining the upbeat tone, that's an endorsement of the current pace and a tailwind for the dollar.
Contrarily, Draghi took a small step towards something more dovish. Speaking in Irish parliament he said that the ECB could push out forward guidance if growth disappoints. That's a hypothetical and is stating the obvious to some degree but it's a crack in the door and economic data has clearly disappointed lately.
Chartwise, Ashraf suggests that 10-year yields are heading down towards 3.13% to form a right shoulder support (as part of an inverted H&S formation), before pulling back up into the Santa Rally. This could mean a bounce for the VIX from 16 to 22, implying fresh downside for equities.
Latest IMTs