Hot-Charts
CADJPY Downtrend Intact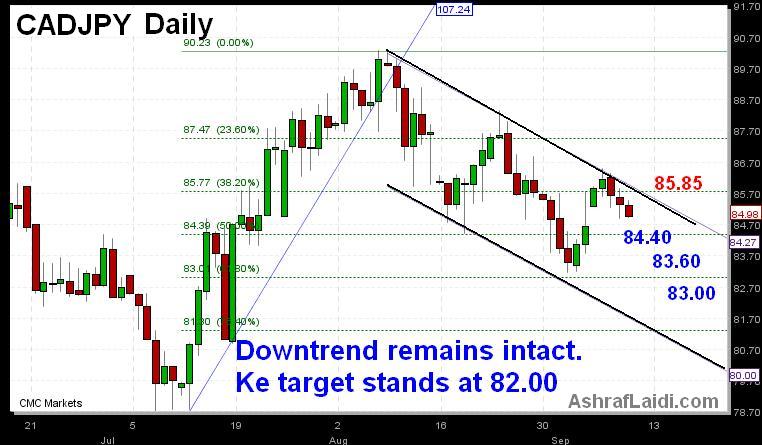 CADJPY continues to show a generally predictable downtrend despite the noise from occasional waves of risk appetite. Such price action is similar to USDJPY, whose peaks have consistently respected the various falling trend lines. The trend line from the 90.23 high thru the 88.39 high held up earlier this week, paving the way for a preliminary target of 84.45 and a break of which (below 84.30) to open the path for 83.60. Any rebound remains capped at 85.80. USDCAD still expected to regain 1.09 and onto 1.1030.
More Hot-Charts
Jan 7, 2020 11:17 | by Ashraf Laidi

The latest on share price performance of major forex firms shows CMC Markets in the lead, up 34% since January 2019, followed by IG Markets' 20% and Swiss Quote at 9%.

Nov 18, 2019 21:34 | by Ashraf Laidi

Those who have shorted equity indices over the past 3 weeks (like I have) were simply wrong.

Oct 16, 2019 15:08 | by Ashraf Laidi

As GBP becomes the 2nd highest performing currency in the G10 since the start of the year, posting daily gains not seen in 10 years, here is a look at the current yields situation, with GBP...
Hot-Chart Archives