Hot-Charts
Commodity Currencies Look-Ahead
CAD – The loonie took an ugly turn to the worst in H2 of last year on a combination of persistent downward revisions from the Bank of Canada and the appointment of Stephen Poloz as new central bank governor. Hailing from an export lobby background, Poloz wasted no time in making CAD-specific pronouncements, which were negative for the currency. He said last month that loonie weakness was not being sufficient for Canadian exporters, leading to the interpretation that more weakness may be needed.
AUD–Aussie was the worst performing currency of 2013 behind the yen as the Reserve Bank of Australia's Glenn Stevens single handedly talked down his nation's currency in an onslaught of verbal interventions during Q4. Australia's unemployment rate hit 4 ½ -year highs at 5.8%, prompting the RBA to slash rates to 50-year lows at 2.0%. The tapering of China's growth rate from a 9-10% trajectory to 7-8%, as well as slashed profit prospects from the copper giants have also weighed on the Aussie. Weakness in copper and wheat prices will maintain the Aussie under wraps, especially as macro disappointment fails to rule out further RBA easing. Stating that the Aussie is near its cycle lows is quite one thing. Consolidating near those lows for 3 or 4 months is quite another. The combination of USD hawkishness and metals stagnation is likely to extend Aussie losses towards 0.8550.
NOK- NOK's was the 3rd weakest currency in 2013, standing only ahead of AUD and JPY. Although the Norges central bank did not cut rates since March 2012, anticipation of an easing continued to spread amid slowing inflation and plummeting oil prices. December headline CPI slowed to 2.0% y/y by more than was anticipated from the central bank. Considering ongoing risks of overheating housing prices, the Norges may consider standing pat, especially that there are two more CPI reports due before the March 28 decision. Considering that the low on rates stands at 1.25% (September 2009), some traders conclude that it rates have to revisit the cycle low before stabilizing.
MXN- After a positive 2012 and a lackluster 2013, Mexico's currency is being favoured by most LatAm traders ahead of the nation's energy reforms and expectations of a recovery in its Northern neighbor. Amendments to the constitution will allow private companies to operate independently or partner with state oil giant Pemex via new types of contracts. This is expected to absorb fresh foreign capital into foreign direct investment—beyond simply hot capital flows. And once the Fed tapering becomes more priced in, this could cap the USD's ascent--particularly against the peso—as Mexico's 2014 GDP is seen more doubling to 3.5% from last year.
NZD - Please see the latest trades on NZDUSD,USDCAD and AUDUSD in our Premium Insights.
Click To Enlarge
Click To Enlarge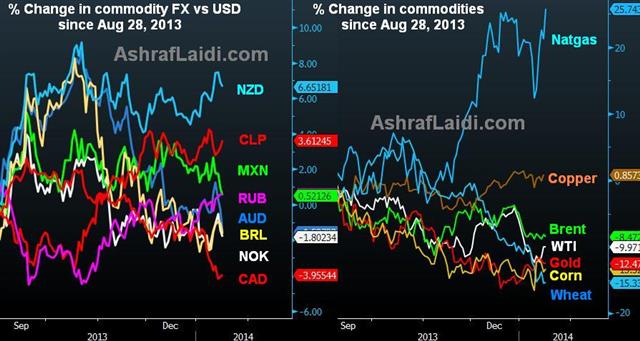 More Hot-Charts
Jan 11, 2023 10:57 | by Ashraf Laidi

If the DAX40 maintains its habit of extending 13% above its 200 DMA, then current upside may extend to as high as 15300, just below the 76% retracement of the decline from the Jan 2022 high to...

Dec 6, 2022 14:34 | by Ashraf Laidi

We know the DXY is highly correlated with USD/CNH so if the Head-&-Shoulder on USD/CNH formation proves valid, then further USD downside lies ahead. ..

Nov 12, 2021 12:55 | by Ashraf Laidi

https://www.binance.com/en?ref=13288560...
Hot-Chart Archives