Intraday Market Thoughts
Ahead of US Retail Sales
Economists overwhelmingly expect the Fed to hike rates next week but it's not because the economy is roaring. The New Zealand and Australian dollars were the top performers while the euro lagged. The economic calendar is relatively light until US retail sales. In our latest Premium Insights, two new trades were issued.
Click To Enlarge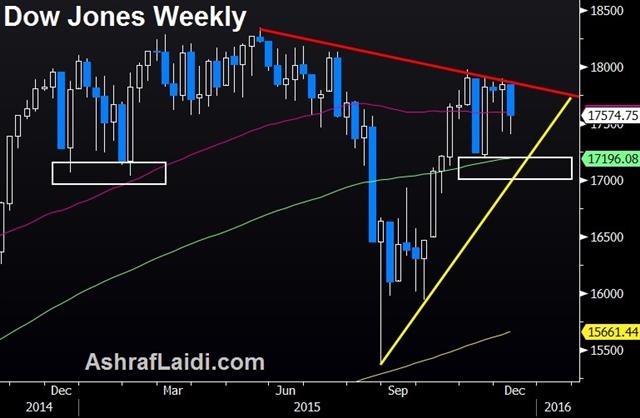 The Fed clearly 'wants' to hike rates and is willing to suspend its fears just to get off the zero bound. But make no mistake, if the Fed funds rate was at 3.00%, the lone discussion would be about whether or not to cut.
Consider this:
The Nov ISM manufacturing index fell below 50 to the lowest since 2009.
The Nov ISM non-manufacturing survey missed estimates by 3 points and fell to the lowest since May.
Today's initial jobless claims report rose to the highest since July.
Inflation is running at +0.2% y/y and commodity prices are falling.
Consumer sentiment data is trending lower.
To be sure, signals from employment remain strong but that's a lagging indicator. At best, the US economy is continuing to slog at about a 2.2% pace with headwinds from weaker global growth and the strong US dollar coming.
The question is when and where to sell the US dollar.
In the bigger picture, we will aim to trade what the Fed does; not what they should do. If the Fed hikes next week and forecasts remain optimistic, there is a chance of a second hike in Q2. El Nino will continue to bring excellent weather to North America and that will boost economic activity and may fool the Fed into believe the economy is truly accelerating in Q1 2016.
That might set up the start of a larger US dollar short mid-2016 but, could come sooner if the market sniffs out the problems. At the moment, market volatility continues to concern us but separating year-end flows from signals is challenging. We will be paying close attention to Friday's US retail sales report.
Act
Exp
Prev
GMT
Retail Sales (NOV) (m/m)
0.3%
0.1%
Dec 11 13:30
Retail Sales (ex. Autos) (NOV) (m/m)
0.3%
0.2%
Dec 11 13:30
Continuing Jobless Claims (NOV 28)
2243K
2155K
2161K
Dec 10 13:30
Initial Jobless Claims (DEC 5)
282K
270K
269K
Dec 10 13:30
Latest IMTs