Intraday Market Thoughts
August Seasonals get a Glance
The momentum and the seasonals diverge as we head into August. The loonie as the top performer in July as the Swiss franc lagged. A big week for data and central banks awaits. Just earlier, the Chicago PMI fell to 58.9 in July from 65.7, posting its bioggest decline since Feb 2015. Prending Home Sales rose rose 1.5% vs an exp 1.0%. Friday's Premium USD trade has been filled and is in progress. Ashraf's Bitcoin webinar this evening is at 8 pm London.
Click To Enlarge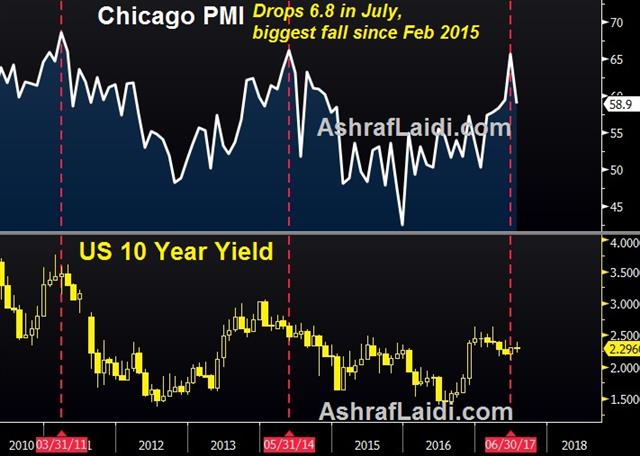 The July story was liftoff in central bank hike expectations as signs of global growth emerged. There are no obvious signs that it will be derailed this time but we're reminded of the many times in the past where it seemed growth was going to turn a corner only to stumble later.
In recent years, August has been a challenging month due to Chinese policy shifts and risk aversion. Seasonally, there are warning signs. AUD/USD has fallen in 10 of the past 12 Augusts and the average decline over the past decade is 1.05%. The RBA could set the tone in its Aug 1 decision.
Seasonal patterns are hit and miss but at the start of July we warned that it was the worst month for USD/JPY and the pair fell 1.5%. On the flipside, oil defied July seasonal weakness but the pattern continues in August and September.
Another seasonal pattern (and another central bank) to watch is pound weakness. August is the worst month on the calendar for cable in the short and long term.
Meanwhile, gold has some momentum and a seasonal tailwind as the August average gain over the past decade is 2.2%.
Ultimately, many of these patterns will need help from a bout of risk aversion so we will be watching all the usual and usual suspects.
CFTC Commitments of Traders
Speculative net futures trader positions as of the close on Tuesday. Net short denoted by - long by +.
EUR +91K vs +91K prior GBP -26K vs -16K prior JPY -121K vs -127K prior CHF -2K vs -4K prior CAD +27K vs +8K prior AUD +56K vs +51K prior NZD +35K vs +36K prior
The market was a bit wrong-footed on sterling this week as it gained across the board. With the BoE coming up this week and US/CA jobs to follow, expect more moves ahead. The other story continues to be CAD as specs shake off the sting of the wrong-footed bet against the loonie and pile into longs. How far can the pendulum swing before the BOC gets cold feet about rate hikes?
Act
Exp
Prev
GMT
Chicago PMI
58.9
60.8
65.7
Jul 31 13:45
PMI
50.5
50.4
Aug 01 1:45
Latest IMTs