Intraday Market Thoughts
Bitcoin Seasonals. Really?
Watch out FX traders. Wednesday was another tumultuous day in the currencies following BoC hike and US dollar initially continued to wilt but caught a strong bid late in the evening. Overnight, Aussie jobs slowed to a higher level than was expected but unemployment edged up, capping AUD at 0.80. Earlier today, US Philly Fed survey eased as well as US jobless claims. Here is a chart suggesting a possible January-February seasonality in Bitcoin's price change. Could it be a result of Chinese selling Bitcoin in January to help Chinese New Year purchases?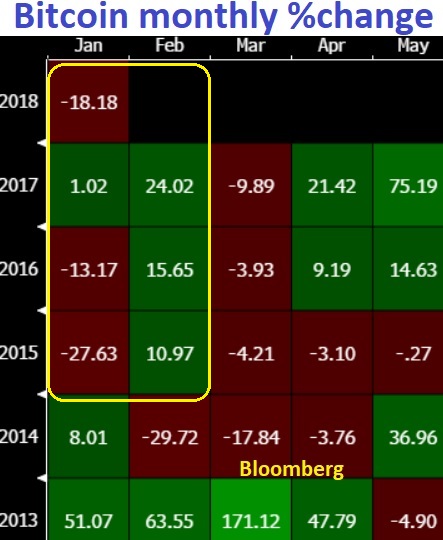 The Bank of Canada delivered a rate hike that was 90% priced in but left the market with few clues about what's coming next and when. The initial reaction in USD/CAD was higher on talk of a dovish hike but the commentary from Poloz didn't back that up. He spoke about wanting to get back to 2.50%-3.50% and increased confidence the economy was on track. At the same time, he spent half the press conference talking about NAFTA risks.
After hitting 1.2520 USD/CAD slowly reversed down to the lows of the day at 1.2370 but part due to a broad US dollar selloff. At the same time, cable soared to a post-Brexit high of 1.3940 as part of a rout on the dollar.
However the selling stopped after the Beige Book. It offered a slightly more-optimistic take on wages and the economy. Earlier in the day, Dallas Fed President Kaplan also made a hawkish shift, saying that his base case is now three hikes this year with the possibility of more.
With that, the dollar began a broad reversal and cable fell back to 1.3820 – more than 120 pips from the high. The euro also fell below 1.22 and USD/JPY rose to 111.30. As part of the same move, bonds sold off and US 10-year yields rose to 2.59% while gold suffered a $10 decline, which is the worst in five weeks.Through it all, the S&P 500 ripped another 26 points higher to close just below the record high.
Sorting through all the 'why' in the market right now is a mammoth task. More important is the 'what' and that's heightened volatility. It was evident in FX lately and it could spread. If so, that's a broader negative for stocks and risk appetite.
It's getting close to the time for caution.
Latest IMTs