Intraday Market Thoughts
BOC to Back Off, Big Day Ahead
The 2nd half of the week is underway, featuring non-stop news including Wednesday's Bank of Canada decision. On Tuesday, the euro was the top performer while the New Zealand dollar lagged as the swoon continued. Bad news on the tax reform plan and chatter of a Taylor nomination (see standing in image below) confounded USD traders. Australian CPI, UK GDP and the BOC decision are up next.
Click To Enlarge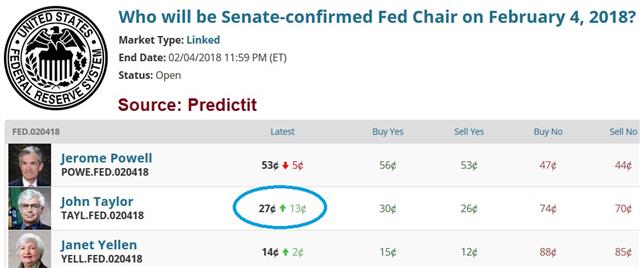 USD/CAD touched the highest since mid-August on Tuesday in a sign that the market is less-worried about a hawkish Bank of Canada. USD/CAD broke the 100-day moving average and neared 1.27 as the +200 pip gain since Friday's soft retail sales reported extended.
That data point is a big reason why few expect another hike from Poloz. However the market is pricing in a 18% chance of higher rates because of the central bank's unpredictable recent history. If the BOC decides to remain on the sidelines, signals about the December meeting and beyond will be closely watched. The market is pricing in a 46% chance of a hike on Dec 6 and that rises to 72% for the January meeting. If the BOC moves to a clear neutral stance, expect a sharp rally in USD/CAD.
The other side of that trade is also dangerous. US 10-year yields broke above 2.40% Tuesday in a move that Bill Gross said could signal the end of the generational bond bull market. That helped to push USD/JPY briefly above 114.00.
At the same time, politics remains a dominant theme. USD fell on talk that Trump's tax cut plan doesn't have enough votes in the Senate. Competing with that was a report that John Taylor won an informal Senate Republican poll to be the next Fed Chair.
Aside from the BOC and Fed, look for big moves in the Australian and UK currencies. At 0030 GMT, the Q3 Australian CPI report is due and expected to show a 0.8% q/q rise. The trimmed mean is forecast at +0.5% q/q and a miss there will be a market driver.
At 0830 GMT, pound traders will be locked into the first look at UK Q3 GDP. The consensus is for a +0.3% reading and a miss in either direction will have major implications for GBP.
Act
Exp
Prev
GMT
CPI (q/q)
0.8%
0.2%
Oct 25 0:30
Prelim GDP (q/q) [P]
0.3%
0.3%
Oct 25 8:30
Latest IMTs