Intraday Market Thoughts
Brexit Extension, more Drama Follows
Britain's Parliament authorized Theresa May to ask for an extension of Article 50 on Thursday but some major moves add risks to both sides of the trade in the days ahead. The Swiss franc was the top performer but the pound is recovering in thin pre-Asia trade. Friday's trade will wrap up with an important look at US industrial production. GBP Premium trade remains well in the green with 3 other trades.
فيديو المشتركين - ألإدارة بين الإسترليني و المؤشرين
Click To Enlarge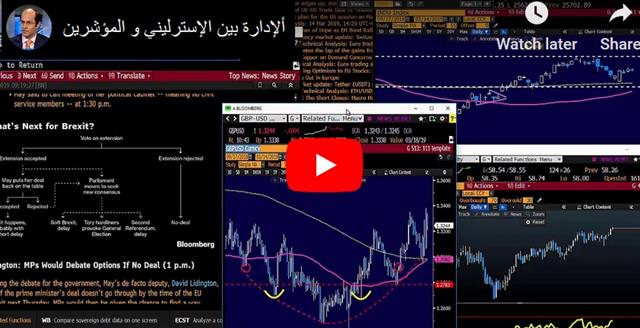 Theresa May won a pair of important votes on Thursday including a narrow 314-312 that would have wrestled legislative control from her next week. The pound lost most of its gains after the vote to authorize an Article 50 extension after an initial pop. The reason is that there are rumblings the EU could grandstand before pushing the deadline. It would require the approval of all 27 EU members and – as we warned earlier in the week – some may see no reason for an extension.
Accept or Wait One Year
And so as Theresa May's deal heads for a 3rd vote next week, the inevitable reality becomes that if
the deal is rejected, then the UK would be forced to extend its EU membership by over a year
-- especially that no-deal is ruled out and extension has been approved. That also means the UK pariticipates in this year's European Elections.
At the same time, there are signs that May has a plan to get her deal approved. Negotiations are underway with the DUP to support the Irish border backstop and ERG members have indicated that if it's good enough for the Irish party it will be sufficient for them (although the cost may be that the PM will have to promise to resign).
The combination of the ERG and DUP could swing as many as 60 of the 75 votes needed to flip the vote. If May can get that close she could lean on Labour members or soft Brexit members in her own party to get it across the finish line. It may take two votes rather than one but it's possible and it would be a major GBP catalyst.
We will continue to watch for signs in the day ahead and through the weekend but the short-term data point to watch for is February Industrial Production at 13:15 London/GMT, expected at 0.4% from -0.6%.
Latest IMTs