Intraday Market Thoughts
Bund Yields See no Grexit
The Bunds-Euro relationship remains intact, as both continue to converge along the crucial trendline support since the April bottom. With yet another yields bounce off the support today, bunds are further eliminating Grexit scenario for now as does the single currency.
The initial rise in the euro and bund yields emerged upon PM Tsipras' announced counterproposal to creditors, expressing his acceptance of their conditions along 5 amendments on pensions, VAT, fiscal/structural measures and labour markets. But the euro rally was quickly eroded as soon as German finance minister Schauble and later Chancellor Merkel announced that any counterproposal from Tsipras were considered null as long as Sunday's scheduled referendum was not cancelled.
The "Yes" momentum in favour of creditors' proposals is reportedly on the rise in Greece, which would be fatal to Tsipras' position and political future. Despite the seeming change in public opinion, Germany insists that Tsipras halts the referendum, sensing that it is gaining increased leverage over Syriza's position.
Scrapping Sunday's referendum promises to be an explosive catalyst for bund yields & the euro, since it is a German pre-condition for any negotiations to continue. The speech from Tsipras moments ago re-iterating his stance in favour of holding a referendum dealt a fresh blow to global stocks. As we face further developments/retractions ahead, it's important to keep the above relationship in mind.
Click To Enlarge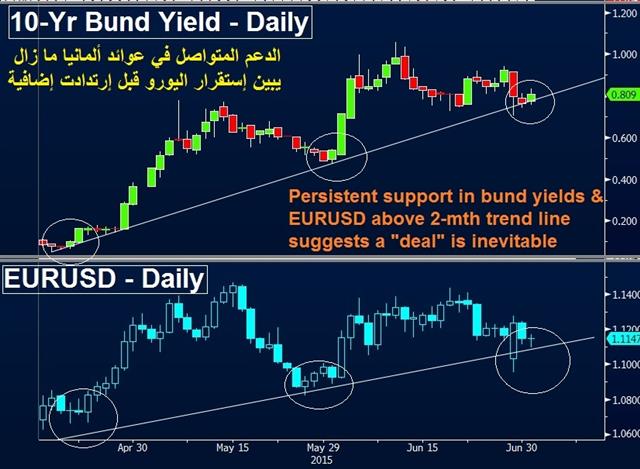 Act
Exp
Prev
GMT
Eurozone PPI (MAY) (m/m)
0.1%
0.2%
Jul 02 9:00
Eurozone PPI (MAY) (y/y)
-2.0%
-2.3%
Jul 02 9:00
Latest IMTs