Intraday Market Thoughts
CAD Leads Run vs USD
What a difference 24 hours makes. Tuesday's broad rally in the USD gave way to an allround sell-off in the US currency on a combination of weaker than expected PPI (suggesting tomorrow's CPI will also disappoint) and positive NAFTA news, particularly for CAD vs USD.Brent oil hitting $80 for the first time in 4 months is also helping to boost the loonie. A new index was issued earlier today ahead of Thursday's ECB decision/press conference.
Click To Enlarge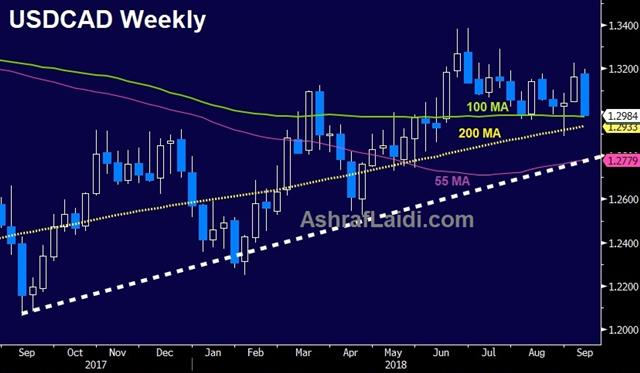 A pair of indicators released Tuesday emphasized just how strong the US economy is. But the Canadian dollar was the top performer on late signs of optimism in NAFTA talks while the yen lagged.
The US economy has had so many false starts that it's easy to understand skepticism about any growth but the numbers are increasingly difficult to ignore. On Tuesday two second-tier data points hit records. The NFIB small business sentiment survey and JOLTS job openings were both better than expected and hit their best-eve levels.The NFIB survey is incredibly detailed and virtually every part of the survey pointed to more growth ahead. The JOLTS survey also showed a jump in quits, which is a sign that people are jumping into better, higher paying jobs.
Sentiment continued higher late in the day on a report that Canada is giving ground in dairy in NAFTA negations. That was coupled with somewhat positive comments from Trump on a deal as well as from the Mexico's economy minister. USD/CAD droped to 1.2980 from 1.3150 on the headlines. The USDCAD Premium short remains open.
Sterling had a late session jump on news that the EU is rethinking the protocol for approaching Brexit, implying it may render the rules more flexible for the Exit process.
Chatter that the ECB will revise down 2019 and 20120 GDP outlook tomorrow has not hurt the single currency, especially if the inflation outlook remains unchanged at a time when headline CPI is already at the 2.0% target.
Act
Exp
Prev
GMT
FOMC's Quarles Speaks
Sep 13 14:00
Latest IMTs