Intraday Market Thoughts
China Fear Begins to Fade
The kneejerk reaction to the yuan devaluation was that it meant the economy in China was much worse than believed. However, as Ashraf explained earlier, it was a perfectly understandable move that was poorly communicated and executed. Confusion continued to lead to risk aversion in European trading Wednesday but as the day continued markets began to get a handle on the situation. Ashraf's premium long EURUSD from 1.1020 on Jul 31 is +140 pips in the green. USDCAD is at brekeven and AUDCAD was stopped out at 0.9500.
Click To Enlarge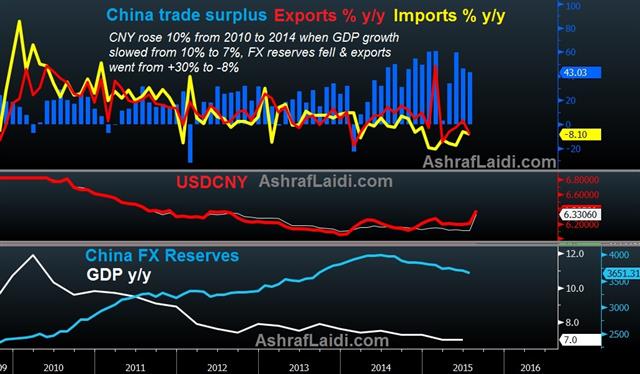 With China in sharp focus, the main event in Asia-Pacific trading once again today is the 0115 GMT yuan fixing. Expect a further 0.9% to 1.0% decline, given how the central bank has pledged to shift the peg to where the market is trading. Yesterday we explained the same mechanism and predicted a 1.5% devaluation. It was announced at 1.6%.
The second devaluation was entirely predictable but the kneejerk reaction was to sell the Australian dollar once again. A market that moves like that is irrational. It's been a similar story throughout asset classes.
Confusion on China has led to a series of puzzling market moves but there are signs traders are beginning to get a grip. The first is the aforementioned Australian dollar. It climbed 2.3% from the lows. The S&P 500 also reversed more than 30 points to close in positive territory.
China is no doubt going through some growing pains but the economy isn't imploding. Even if growth is softer, policymakers have a full set of tools to stimulate growth. The takeaway from the past month is that China will use them. The communication and execution have been sloppy so far but ultimately the actions will support domestic and global growth.
Keep a close eye out for continued AUD strength. It's still early but that would be the clearest sign that confusion about China is ebbed.
Other events on the Asia-Pacific calendar today include Japanese June machine orders at 2350 GMT. The consensus is for a 17.6% y/y increase.
Latest IMTs