Intraday Market Thoughts
China Tensions Ease, onto Retail Sales
US-China Trade worries ebbed last week as Trump turned his gaze towards Europe but will it last? The US dollar was the top performer last week while the yen lagged. CFTC positioning showed a fresh appetite for cable sales. All eyes turn to US retail sales and the IMF's latest global forecasts. Here is a Bitcoin chart posted late Friday. Bitcoin is now $400 higher. A new CHF Premium trade will be issued momentarily.
Click To Enlarge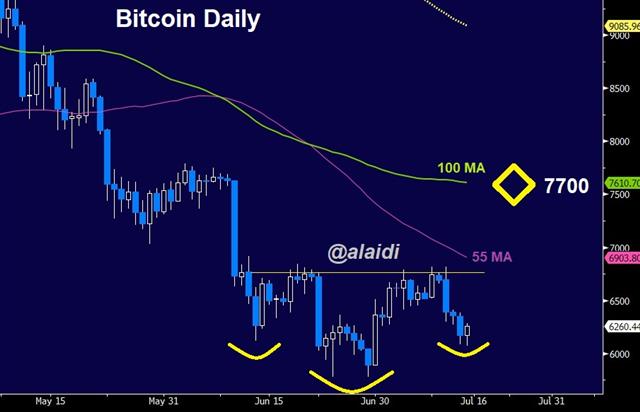 FX markets opened the new week with minimal fanfare. On the weekend, the ECB's Weidmann warned about downside risks to the economy in a meeting with German cabinet but said the ECB wouldn't be able to help much in the event of a downturn.
The focus overnight was on on China, especially with Japan on holiday Monday. The CSI 300 posted its best week in two years but it comes after five weeks of declines. A quick reversal after a long trend isn't often a lasting reversal and it could evaporate in a heartbeat given the tensions and the weakness in the currency.
China's Q2 GDP rose 6.7% y/y, the slowest in 2 years with industrial output data weakern than expected. On the weekend the Chinese press was instructed not to 'over-report' on the trade war with the US. That could just be the usual effort to control the media and an effort to keep the public calm, but it may also be a sign that China is ready to make a deal.
CFTC Commitments of Traders
Speculative net futures trader positions as of the close on Tuesday. Net short denoted by - long by +.
EUR +20K vs +37K prior GBP -40K vs -29K prior JPY -40K vs -39K prior CAD -53K vs -49K prior CHF -40K vs -40K prior AUD -41K vs -39K prior NZD -27K vs -26K prior
Euro longs are scaling out as selling the pound expands in popularity. The net short in cable is the most-extreme since September 2017 in another sign that the market isn't on the same page as the Bank of England governor.
Act
Exp
Prev
GMT
Gross Domestic Product
6.7%
6.7%
6.8%
Jul 16 2:00
Latest IMTs