Intraday Market Thoughts
Crowded Commodity Conundrum
The long USD/short commodities trade has been the most popular trade of the past 12 months but that also makes it the most vulnerable. The Canadian and New Zealand dollars climbed in US trading Tuesday despite a strong US dollar. Australian skilled vacancy data is due later.
Click To Enlarge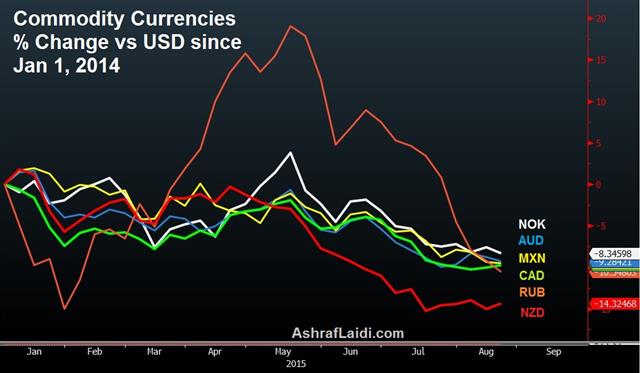 A crowded trade is a dangerous one and the commodity basket is showing signs of life. Even as oil fell over the past week, USD/CAD has been unable to break above 1.32 while a small bounce in crude today sent the pair to 1.3050, even as the US dollar retained a broader bid.
The New Zealand dollar faced a 5-month headwind from collapsing milk prices but today's dairy auction climbed for the first time since March, jumping 14.8%. If prices can stabilize it puts the RBNZ in wait-and-see mode with a still-appetizing 3.00% overnight rate.
It's early but commodity currencies have shown some early signs of basing over the past two weeks. If physical commodities can bounce, or the US dollar is hit by dovish news (CPI and the Fed Minutes are on Wed), then a larger squeeze may be in the cards.
Up next, the Australian dollar is in focus with July skilled vacancy data a 0100 GMT. Previously, vacancies fell 0.9%. Other data includes Japan's all industry activity index at 0430 GMT and Japan dept store sales at 0530 GMT. Soft data could weigh on the yen after Monday's weak Q2 GDP print.
Act
Exp
Prev
GMT
All Industry Activity Index (JUN) (m/m)
0.4%
-0.5%
Aug 19 4:30
Latest IMTs