Intraday Market Thoughts
Dollar Dashes Higher on Risk Reversal
The US dollar showed its currently less concerned with what the Fed will do in September and more preoccupied with the risk trade as it snapped higher. The loonie kept pace with USD as the top performer while European currencies were beaten up badly. The BOJ's Kuroda speaks later. The chart below highlights the potential similarities between the latest weekly chart in S&P500 and that in mid Oct-2014. 2 new trades have been issued on the Dax for Premium subscribers.
Click To Enlarge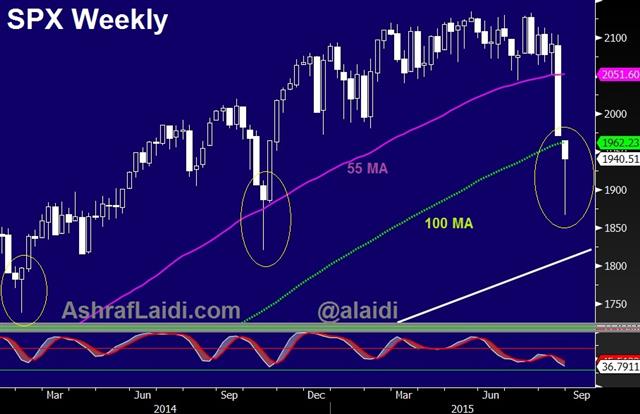 A volatile market is ever-dangerous and even dovish comments from the Fed's Dudley couldn't undercut a surge in the US dollar as risk assets ripped higher. The S&P 500 posted its biggest one-day rally since 2011.
Dudley said a Sept rate hike seems less compelling to me than it was a few weeks ago but sentiment is much more important than statements at the moment. An ebb in the fear that's gripped markets led to spectacular rally in the US dollar.
EUR/USD and cable both fell more than 200 pips. Late in the day the euro fell below the 200-day moving average while the pound took out the 100-dma.
Nerves were also soothed by economic data. July US core durable goods orders rose 2.2% compared to +0.3% along with upbeat revisions.
We interpret the surge in volatility (rising & falling markets) to be a message to the Fed and PBOC that the global economy is on shaky footing. If stocks can continue to rally and the US dollar stabilizes, that could be the end of this episode for now but if central bankers push a hawkish agenda it will surely reignite.
In the short term, we remain extremely cautious. The Canadian dollar remains overwhelmingly vulnerable as oil prices failed to rally on a large US supply drawdown. A large Canadian bank also called for a BOC rate cut on Sept 9.
The next central bank in focus is the BOJ with Kuroda in NYC to speak about Japan's inflation target at 2300 GMT. The topic hints at potential fireworks but it would be difficult for the BOJ to signal more QE so soon. The previous round of QE was also a surprise and that proved to be effective in weakening the yen so he could remain mum.
Act
Exp
Prev
GMT
Durables Ex Transportation (JUL)
0.6%
0.3%
1.0%
Aug 26 12:30
Durable Goods Orders (JUL)
2.0%
-0.4%
4.3%
Aug 26 12:30
Latest IMTs