Intraday Market Thoughts
Drug Sparks Hope, China Contracts
An article on the effectiveness of Gildead drug Remdesivir in treating COVID-19 sparked a jump in risk assets late Wednesday. The Canadian dollar was the top performer while the yen lagged. China's GDP shrank by 6.8% in Q1, posting the first contraction in over 4 decades. (More below).Both of the trades in DOW30 and EURUSD were stopped out. A new trade will be issued ahead of the US cash open.
Click To Enlarge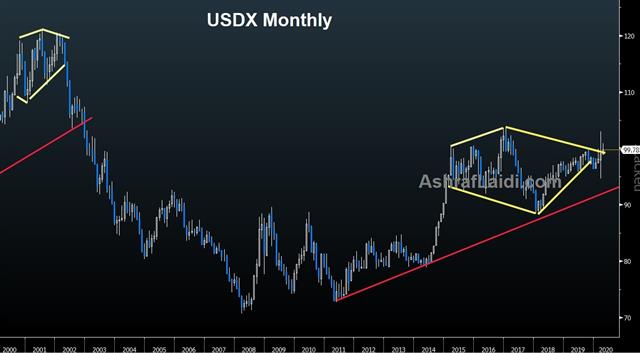 Markets generally chopped sideways Wednesday until a late-breaking report on a treatment for coronavirus boosted yen crosses.
A video leaked to STAT showed University of Chicago researchers talking about a trial of 125 patients including 113 with severe cases. They said that "most" had recovered and only two died. The officials in the private video cautioned against drawing conclusions but the market hasn't.
Stock futures jumped 2.5% and yen crosses climbed, albeit more cautiously. The company has previously said it expects to publish preliminary results some time this month. If confirmed, the news could be a game-changer. An effective therapy would dramatically tilt the balance towards re-opening economies quickly and encouraging people to interact.
At the same time, the economic damage in the current situation continues to come into focus. US jobless claims rose by another 5.2 million and the April Philly Fed hit a 40-year low of -56.6.
China's GDP contraction data maybe a rear-view mirror, but serves as a crucial data point that's relevant for how the consumer will respond to re-opening the economy. The GDP figures will likely force Beijing to issue additional stimulus to avoid a contraction in Q2 GDP, which would mean a recession.
Latest IMTs