Intraday Market Thoughts
Eroding the one-two punch
Markets erase 80% of Wednesday's gains 40 mins into the cash session amid news of more virus cases in NY and reports of testing for over a dozen cases in the US Pentagon. Also some US senators have announced the White House's goal of setting 1-million tests by end of week cannot be reached. If you were to sketch out an ideal scenario to counteract market sentiment related to coronavirus at the start of the week, it might have gone something like this: 1) Central bank rate cuts 2) Bernie Sanders faltering in the Democratic race. The one-two punch of central banks and politics is exactly what unfolded and it led to a big rebound in risk assets on Wednesday. Until things changed again.
Click To Enlarge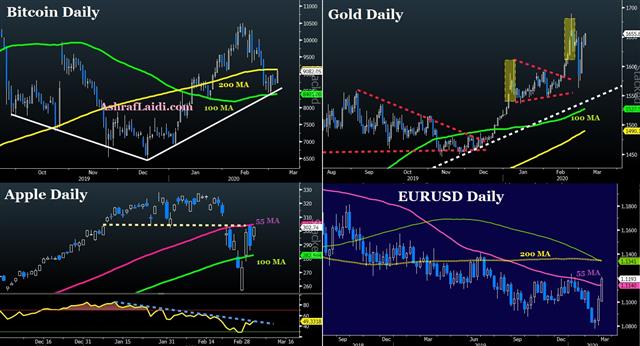 Market developments will entirely hinge on the outlook for the virus. Signs of spread continue to percolate but many questions remain unanswered including how deadly it is, how many people get only mild symptoms and how easily it spreads. We don't have answers to those questions but the central bank and political moves are worth recapping.
The BoC cut 50 basis points (as we warned) on Wednesday to follow the Fed and RBA a day earlier. An MNI sources story also said the ECB was pondering rate cuts next week while incoming BOE Governor Bailey hinted at action. All are forecast to continue to ease. Had there been no virus, that would have been an extremely powerful signal.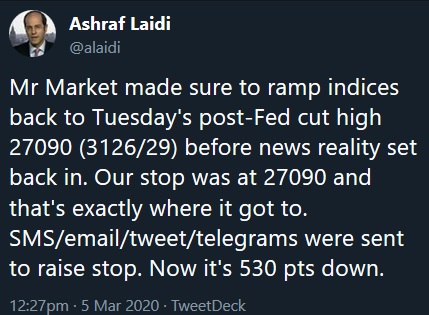 Combine that with the latest political developments. Just four days ago Bernie Sanders was a 70% favourite for the Democratic nomination but with all the moderates coalescing around Biden and the results of the Super Tuesday votes, he's now at about 25%. A Trump vs Biden election is a significantly more market-friendly contest and that was clearly reflected in +10% rallies in US health insurers Wednesday.
Wednesday's one-two punch of central banks and politics is the market's best shot for a reversal. When the virus does turn for the better, it sets risk assets up for a remarkable rebound. For now however it's competing against a virus that threatens to devastate economies everywhere. Just 12 days ago there were 5 confirmed cases in Italy and today the government announced the shutdown of schools, cinemas, and public events nationwide. The European Commission is already warning about a recession in Italy and France.
The aforementioned one-two punch appears to be the market's best chance at a turn, as well as the best chance for to sell rallies, because it will be impossible to sustain upbeat economic sentiment until there is a clear picture of the impact of the virus, along with answers to the virus questions we posed above.
Latest IMTs