Intraday Market Thoughts
Euro Bull-Bear Division
Mario Draghi had no choice but to signal the willingness for the ECB "ready to do its part" in furthering policy stimulus at today's testimony to the EU Parliament. Draghi's dovish spin was inevitable due to two reasons: Shares of Eurozone banks have plunged partly due to supressed profit margins from tumbling interest rates; there is no ECB meeting scheduled this month. So Draghi had to give the equivalent of a dovish overture to the markets and extend the momentum of the 2-day bounce in global equities. Fed Chair Yellen also took a dovish stance at last week's Congressional testimony as there's no Fed meeting scheduled in February.
Click To Enlarge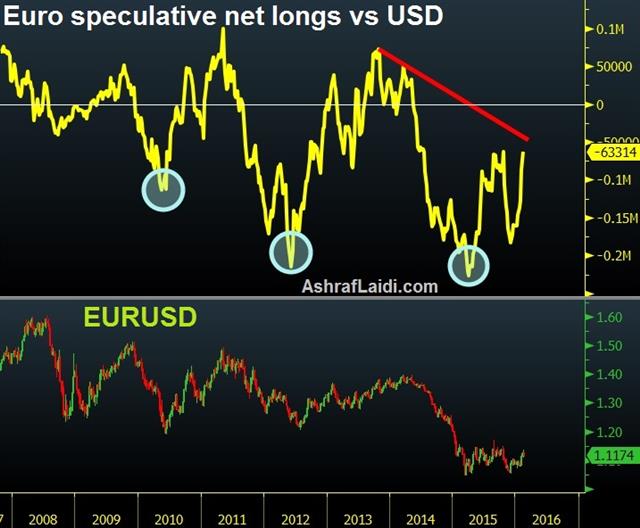 So where does this leave us in the policy divergence paradigm of "Fed policy vs the Rest" in assessing the value of EURUSD?
Euro bulls/USD bears claim are backed by the notion that the single currency is increasingly functioning as a funding currency, thereby benefiting from any renewed selling in asset markets. They add that FX traders have not completely priced the rising market probability (Fed Funds futures) that US policy rates will remain unchanged.
On the other hand, euro pessimists/USD bulls counter that further negative interest rates by the ECB and additional rate hikes from the Fed will boost the USD, and could break EURUSD below parity. And even if the Fed ends up doing nothing, further ECB action on QE and/or interest rates will keep euro pressured.
Both camps make sense. This week's release of the minutes from the January 26-27 FOMC and of the US January CPI figures will add a new set of two-way price action to EURUSD trading, not to mention a fresh chorus of Fed speakers. In our Premium Insights, a new EURUSD trade has been issued, backed by technical charts & fundamental rationalisation. To help subscribers better grasp the rationale of our conclusion, we asked (and answered) two questions. The full trade is here.
Latest IMTs